Camping out to cast first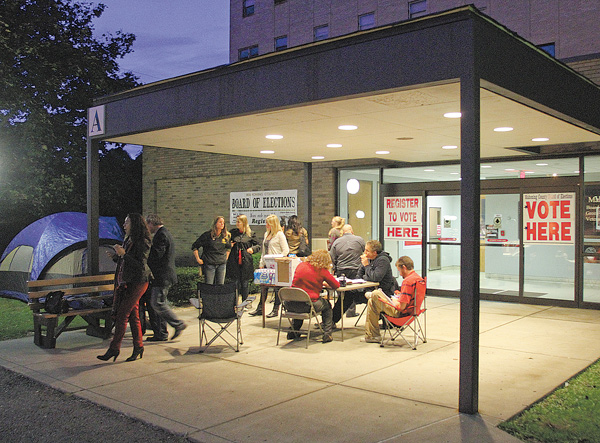 ---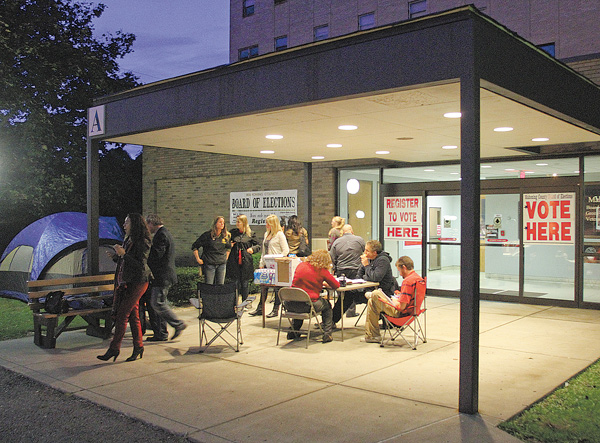 Photo
Democrats set up camp outside the Mahoning County Board of Elections on Oak Hill Avenue. Monday night's sleep-out was designed to raise awareness about early voting in Ohio, which began today.
By Jeanne Starmack
youngstown
Outside the Mahoning County Board of Elections office on Oak Hill Avenue, the Democrats were ready to greet the start of early voting today in Ohio.
With tents and vans to keep off the rain and enough pizza and chips to keep hunger away until this morning, they were prepared Monday night to camp out and be the first to cast their votes for President Barack Obama.
What they weren't prepared for, however, was the persistence of the mosquitoes that were enjoying a feast of their own. No one seemed sure if anyone had thought to bring bug spray.
"I generally don't camp out, so it's been an interesting experience," said David Betras, chairman of the Mahoning County Democratic Party.
Also with him at the Mahoning County version of Sleep Out the Vote, a statewide event organized by the Ohio Senate Democratic Caucus, were state Rep. Robert Hagan of Youngstown, D-60th, and state Sen. Joe Schiavoni of Boardman, D-33rd.
"I do like to camp," Schiavoni said.
They were expecting reinforcements, too, including U.S. Rep. Tim Ryan of Niles, D-17th, after the conclusion of a candidates' forum at nearby Bethel Baptist Church.
With them also were volunteers who believe strongly that people should get out and vote.
One in particular won't actually be voting herself. That's because she's only 17. Nonetheless, Colleen Craig, an Ursuline High School student from Austintown, was determined to do what she could to help her candidate win.
"We need to be excited and support [Obama] in everything he wants to do," she said.
"We're living in an exciting time," she continued. "There's a lot of uncertainty right now. It's important we get involved in what's going on, especially the younger generation.
"If you choose not to vote, it's no protest," she continued. "You are just surrendering. You need to let everybody know what's important to you."
Betras said he believes in Obama's vision for the country.
"We'll build this economy from the middle out, not from the top down," he said. "[Obama] wants everyone to play by the same rules."
The Democrats were staging their sleep-outs in the cities, which are the state's Democratic strongholds, said Hagan.
The Republicans also were gearing up to promote candidate Mitt Romney, though, with a "Commit to Mitt Early Vote Express" tour. The Romney-Ryan Mobile Phone Bank Bus was expected to start the tour in Hamilton County, and Chris Maloney, Romney's spokesman in Ohio, said it will be winding its way through the Mahoning Valley in the next few weeks.
There also will be Republican events today in Mahoning, Cuyahoga, Hamilton and Franklin counties.
Mahoning County's is at the Youngstown Victory Center, 621 Boardman Canfield Road, beginning at 7:30 a.m.
Maloney said Mahoning County Republican Party Chairman Mark Munroe will be there to explain the importance of early voting.
He said as more people vote early, it allows the campaign to focus on those who are left.
"We can have more effective voter contacts," he said.
Republicans also are claiming a focus on the middle class.
Maloney said one of Romney's top priorities is the construction of the Keystone XL Pipeline, which would begin in Canada and transport oil through the United States, linking to operating Keystone System pipelines that extend to the Gulf of Mexico.
"We have a large pipefitting industry [in Ohio]," he said. "And the pipeline would create jobs across the country."
He said the Obama administration delayed the pipeline because of environmental lobbyists.
More like this from vindy.com
October 2, 2012 12:10 a.m.