Student creativity flourishes with SMARTS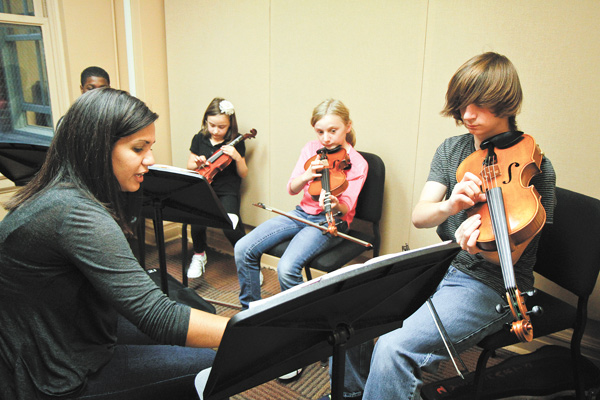 Photo
Gia DeAscentis, a Youngstown State University student, teaches a music class to Garfield Johnson, left, Ava Tovarnak, Alanna Clapp and Nathan Clapp at the SMARTS Center.
PHOTOS & STORY
BY MADELYN P. HASTINGS
YOUNGSTOWN
Youngstown State University's SMARTS program is a free community art school at the DeYor Performing Arts Center in downtown Youngstown.
SMARTS is an acronym for Students Motivated by the Arts.
It offers 28 hours a week of after-school and Saturday art programs, including painting, photography, music lessons, music theory, comic and cartoon drawing, fashion, creative writing, singing and acting.
The classes are offered for free and funded by donations, and the teachers are mostly YSU students studying education. The students receive a newsletter with a list and description of the available classes, and they are able to sign up for classes that are of interest to them.
More than 85 children per session, from kindergartners through 12th-graders, receive music lessons, and they learn how to read and write music.
The SMARTS Center also has an art shop where the students can sell their masterpieces and a gallery to display their work. The program has been around for almost 15 years and has served thousands of children in the community.