New spin on fall festival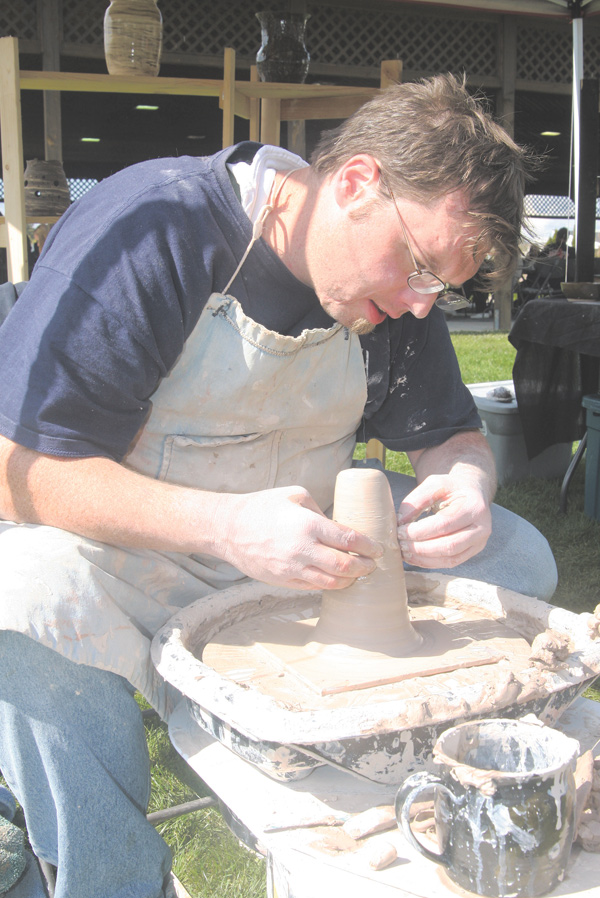 ---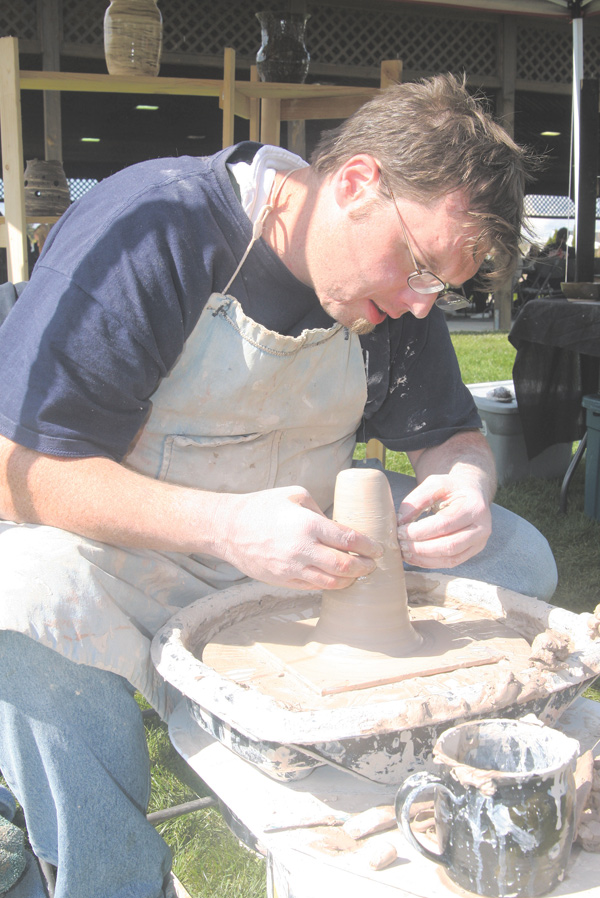 Photo
Christopher Karg of Brookfield crafts a piece of pottery Sunday at the Oktoberfestival in Boardman Park. The event is sponsored by the Boardman Rotary Club. This was the 36th annual event and the first with a slight name change from Oktoberfest.
By Sean Barron
BOARDMAN
If you hang around Christopher Karg long enough, you'll see the shape of things to come.
"I make art on a wheel," said Karg, who operates Karg Pottery from his Brookfield home.
Karg, who describes his work as "wheel-thrown art," was one of an estimated 150 local and regional arts and crafts, commercial, political and nonprofit vendors who took part in Sunday's 36th annual Boardman Rotary Oktoberfestival at Boardman Park.
The event that attracted about 9,100 people marked the debut of hands-on demonstrations such as Karg's, noted Shelly LaBerto, event co-chairwoman. Sponsoring the gathering was the 92-member Boardman Rotary Club.
This also was the first year of the slight name change from "Oktoberfest."
Karg, whose love for cre- ating pottery began in the late 1980s during his days at Oil City High School in Oil City, Pa., used a dental pick, a spatula and several other tools to make, shape and design a ceramic bowl as it spun on a wheel. Most items take about five to seven days to dry and solidify, he noted.
"I had a thing for the wheel and haven't stopped. It's a love of a lifetime," said Karg, who had for sale several mini-colanders, ring holders and other similar items he had created.
The eight-hour gathering featured the usual array of wooden Christmas and Halloween decorative pieces, snowmen, chocolate-dipped apples, dolls, wreaths, flower baskets, figurines and potholders. Other popular items were small wooden sleds and flutes, necklaces and dish holders for dogs and cats.
Hitting the right note yet staying flat was Kaz's Krazy Bottles of Boardman, run by Joe Kasbee and his mother, Debbie Kasbee.
"They're a unique gift for someone who has everything," Joe Kasbee said, referring to the numerous glass bottles he had melted, causing them to flatten.
Kasbee places the bottles in a kiln heated to 1,800 degrees in the basement of his Applewood Boulevard home.
He also removes, then uses an acrylic material to reattach the original labels, he continued.
The finished products often are used as coasters, spoon rests and decorations, and can be used to serve food, said Kasbee, who started the business about 12 years ago.
Debbie Kasbee also runs the business from her West Palm Beach, Fla., home.
On a more somber note, several friends and family members of 20-year-old Brandy Stevens-Rosine were on hand at Oktoberfestival to sell colored bracelets for $3 apiece (two for $5) to honor Stevens-Rosine, who was found dead last May in a shallow grave near Cochranton, Pa. Two women face criminal-homicide charges in her death.
Proceeds will go toward building a memorial bench, estimated at $2,500, near Youngstown State University's Kilcawley Center, and to form a scholarship at Boardman High School, where she had graduated.
"She always had a smile on her face," said Brandy's mother, Carrie Rosine of Hubbard. "She lit up a room when she walked in."
"She was a very outgoing, caring person," added Kevin Gold, Carrie's boyfriend.
Carrie said her daughter planned to major in sociology at YSU and wanted to stress to people the importance of being true to themselves. One of Brandy's mantras highlighted the value of staying calm and carrying on, Carrie continued.
Also helping to sell bracelets were Brandy's grandmother, Kathy Stevens of Beaver Township; sister, Stephanie Rosine; and friends Krysti Horvat, Samantha Pemberton and Ashley Moreno.
All wore T-shirts with a likeness of Brandy that read, "In loving memory of Brandy Rosine."