Dogs, owners have their day at Pet Celebration in Warren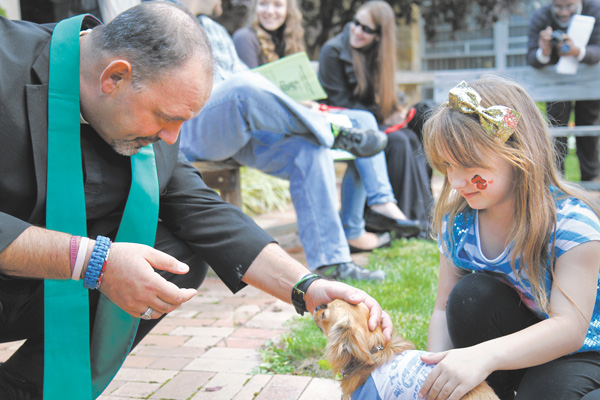 Photo
The Rev. Jeff Baker of Christ Episcopal Church in Warren blesses Pup, a long-haired chihuahua owned by Madison Kuta, 6. The church conducted its sixth annual Pet Celebration on Sunday.
By Denise Dick
warren
Two-year-old chihuahua Tinkerbell donned painted pink toenails, a floral print dress and a tiara for the Pet Celebration on Sunday at Christ Episcopal Church.
Sunday marked a first at the event for Tinkerbell and her owner, Carol Taylor of Warren.
The pair took home first place in the Best Trick contest. Tinkerbell danced around in a circle on her hind legs when prompted by her owner.
Other winners were named in the Best Dressed, Waggliest Tail, Most Resem- bling Owner and Most Unusual contests.
Cuddles, Debbie Albanese's 6-year-old schnoodle (part schnauzer, part poodle), took the Best Dressed honors for her lion costume.
"She gets dressed up all the time," said Albanese, of Farmdale.
Anne Martin, who organized the event, said it's the church's sixth annual Pet Celebration, and this year's saw the most participants.
"We've seen a steady stream all afternoon," she said.
Animals — mostly dogs — of all shapes and sizes, walked around the church parking lot as their human companions visited the booths.
Businesses that cater to pets and their people such as the Learning Dog Training and Enrichment Center in Hubbard and the Pet Lodge in Champion had booths at the event.
Animal welfare groups including the Trumbull County Kennel, Weeping Willow 2nd Chance German Shepherd Sanctuary of Lordstown and Cats Are People Too of Warren also set up booths.
Evee, a 11/2-year-old pit-bull mix, one of the dog's available for adoption at the Trumbull County Kennel, wore pink butterfly wings for the event.
Red, a 7-week-old Cane Corso pup from Trinity Cane Corsos in Warren, took first place in two categories: Most Unusual and Most Resembling Owner.
For the latter, Red posed with Abby Olson, 1.
Martin said the event is conducted the last Sunday in September because it's close to the time of the Feast of St. Francis, the patron saint of animals.
"It's a community outreach event to raise awareness of the joy pets bring to our life," she said.