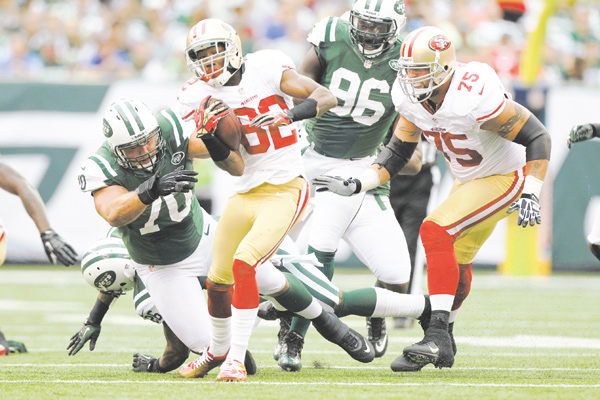 ---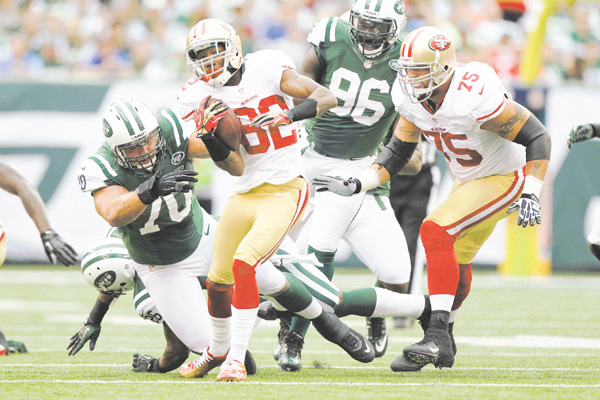 Photo
San Francisco 49ers wide receiver Mario Manningham (82) breaks a tackle by New York Jets defensive end Mike DeVito (70) during the first half of Sunday's NFL game in East Rutherford, N.J. The 49ers routed the Jets, 34-0, with Manningham, a Warren native, recording three catches for 47 yards, plus a 28-yard gain on an end-around.
A SAN FRANCISCO TREAT
49ers rout Jets after week in Valley
Associated Press
EAST RUTHERFORD, N.J.
The San Francisco 49ers are everything Rex Ryan wishes his New York Jets were.
San Francisco used a solid running game, a smothering defense, a little bit of the wildcat-style offense and even blocked a punt to cruise to a 34-0 victory Sunday.
That's exactly the type of team the Jets coach was hoping to build. Instead, Ryan had to watch it from the other sideline as the 49ers ran for more than 200 yards and Carlos Rogers returned a fumble 51 yards for a touchdown.
Frank Gore, Kendall Hunter and backup quarterback Colin Kaepernick — on a wildcat-style option — all ran for scores as the 49ers (3-1) bounced back from a disappointing loss last week at Minnesota.
"For sure, the whole week there was more of an edge; it was just a bad taste in your mouth," Alex Smith said. "I don't think that goes away in one day. We wanted to be 3-1 and got it done."
Rather than head back to the West Coast after that defeat, coach Jim Harbaugh chose to have his team stay in eastern Ohio and practice at Youngstown State all week.
It apparently helped, just as it did last season when the 49ers did the same thing.
San Francisco won in Cincinnati last year, stayed on the road and then rallied from a 20-0 deficit to stun the Eagles 24-23 in Philadelphia. The 49ers wound up going to the NFC championship that season, and if they play anything like they did against the Jets, they could very well find themselves advancing deep into the postseason again.
It was San Francisco's first shutout since beating the St. Louis Rams 26-0 last December.
Defensive end Aldon Smith called it a statement win.
"Yeah, that's right," he said. "After the last game, some people were questioning us and we knew what we were capable of. We played all together as a unit and proved what we are as a defense."
On the first play of the fourth quarter, Santonio Holmes caught a pass from Sanchez for 4 yards, but his left leg appeared to go out on him. The ball flew out of his hands, and Carlos Rogers picked it up and returned it for a score.
Holmes left the stadium in a golf cart, holding crutches, his left foot in a boot.
Ryan said Friday that the Jets would wait to put Revis on injured reserve until he has surgery in a few weeks, keeping him available in case New York goes to the Super Bowl. If the Jets play like this the rest of the way, getting to the playoffs will be a tall task.
Alex Smith was efficient, going 12 of 21 for 143 yards and no touchdowns, but more importantly, no interceptions. Sanchez had another poor game, going 13 of 29 for 103 yards and an interception.
"We knew Sanchez holds the ball a little longer and we felt we could get after him," Aldon Smith said. "We pretty much did."
New York finished with just 45 yards rushing.
The wildcat-style offense worked early — but for the 49ers and not Tim Tebow and the Jets.
Kaepernick put the 49ers up 7-0 early in the second quarter, taking a direct snap and running untouched off left end for a 7-yard touchdown. Kaepernick also had a 17-yard run earlier in the game.
On the Jets' next possession, Tebow threw his first pass with New York, a short one over the middle to tight end Dedrick Epps, who was upended immediately by Dashon Goldson as the ball came loose. Rogers recovered, and the fumble call was upheld by video review. Epps injured his right knee on the play.
Warren native Mario Manningham, a Super Bowl hero with the Giants before joining the Niners as free agent, returned to the Meadowlands and had three catches for 47 yards, plus a 28-yard gain on an end-around.