Poland church hosts vespers service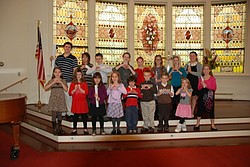 Photo
Neighbors | Submitted.The Children's Choir of Poland Presbyterian Church has been practicing, under the direction of Emily Slaven.  These young people, shown forming a heart with their hands, will sing with the Chancel Choir at "Christmas Vespers" Dec. 9 at 6:15 p.m.
Musicians from the very young to seasoned adults are preparing for "Christmas Vespers, a Celebration of Carols" to be held Dec. 9 at 6:15 p.m. at Poland Presbyterian Church.
The Chancel Choir, Village Handbell Ringers and the Children's Choir will participate. Narration and Bible passages will be read by Poland Presbyterian's youth, representing grades seven through 12. The sanctuary, decorated for the Christmas season, will be filled with candlelight in keeping for the tradition of evening vespers.
Errol Kehrberg, Poland Presbyterian Director of Music, will conduct the combined choirs. Keyboard accompaniment will be provided by Larry Harris, professor at Youngstown State University Dana School of Music.
"A Celebration of Carols" is the theme of the evening and all well-known carols will be performed.
"We picked a Sunday early in Advent to jump-start the season with these time-honored melodies," said Kehrberg. "We hope these traditional carols will open all of our hearts to the true gift of the season."
Poland Presbyterian Church was founded in 1802 and is located on the Village Green near Poland Manor. There is no charge for admission. Parking is available behind the church.