Market Street students catch candy culprit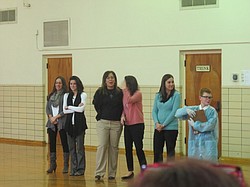 Photo
Neighbors | Natalie Scott.Teachers that were suspected of stealing the candy were brought before the assembly so that the evidence could be revealed as to whether they were guilty or not. Students used hair and bite impressions, as well as handwriting samples and thumbprint analysis to find the culprit.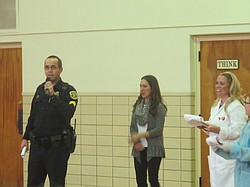 Photo
Neighbors | Natalie Scott.Ms. Tanna (right) revealed that Theresa D'Angelo (center) was the person who took the candy and Sergeant Hillman (left) of the Boardman Police Department stepped forward to ask D'Angelo to tell her story.
By NATALIE SCOTT
A missing bag of candy sparked a science adventure and sleuth experiment to find the culprit at Boardman Market Street School Nov. 20.
It took students five weeks (one science sleuth project a week) to discover the identity of the candy culprit. The students used hair and bite impressions, handwriting samples and fingerprint analysis to discover the teacher who took the candy.
At the beginning of the assembly, the classes had six suspects: Jodi Leininger, Theresa D'Angelo, Lisa Ebie, Rose Osborne, Jackie Lawson, and Melissa Loew. The students used the evidence they gathered during their five weeks of labs to discover that the candy culprit was D'Angelo.
According to Ms. Tanna, the science teacher responsible for the assembly, 95 percent of the students who participated in the experiments were able to successfully follow the clues and discover the identity of the Market School candy culprit.
The candy culprit assembly was a chance for students to interact with evidence and investigate clues using unique identity tactics still used by law enforcement today. Planning the assembly took a few hours to plan and organize, according to Jim Stitt, the principal at Boardman Market Street School, and involved seven teachers school-wide.