Kent makes more plays, beats Penguins in OT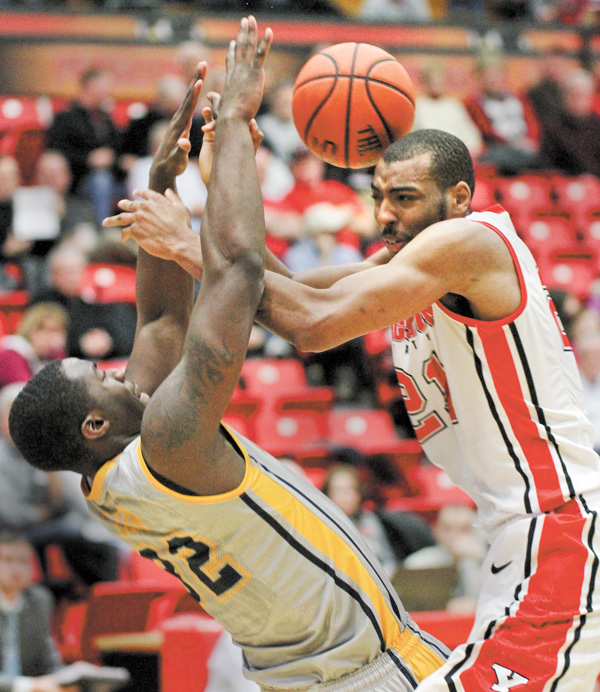 ---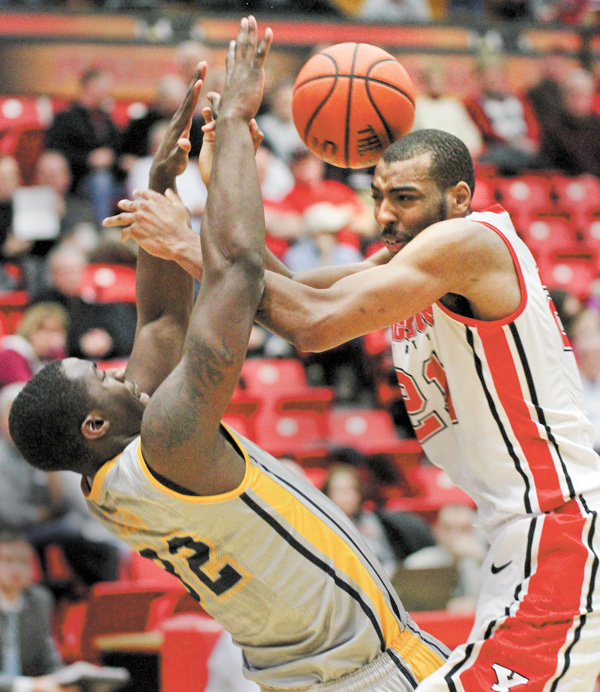 Photo
Youngstown State's Damian Eargle (21) collides with Kent State's Melvin Tabb (32) during the first half of a game at Beeghly Center on Wednesday night. The Golden Flashes defeated the Penguins, 85-78, in overtime.
By Joe Scalzo
YOUNGSTOWN
Over the past eight days, a potentially magical season has started to slip away from the Youngstown State men's basketball and Penguins coach Jerry Slocum knows why.
"We're not playing good in big moments," said Slocum following Wednesday's 85-78 overtime loss to Kent State at Beeghly Center, YSU's fourth straight defeat. "We're not doing a lot of things right when the game is on the line. And it's disappointing and as a staff we have to figure it out or I have to figure it out and keep putting ourselves in that position."
The Penguins (3-4) entered Wednesday's game with their best chance to beat Kent State in years. The game featured 17 lead changes and 19 ties and both teams had opportunities to win in the closing minute of regulation.
With the game tied at 68, Kent State senior Chris Evans missed a driving layup that was rebounded by YSU's Damian Eargle. After a Penguins timeout, DJ Cole zipped a nice pass to Kendrick Perry, who missed a driving finger-roll with 33 seconds left.
Thirty seconds later, Randal Holt missed a 3-pointer just before the buzzer with Eargle's hand in his face.
Then, in overtime, YSU trailed by just two with 37 seconds left but Blake Allen drove into traffic and threw a pass out of bounds and the Penguins were forced to foul down the stretch. The Golden Flashes (5-2) made 8 of 9 from the line in overtime to close it out.
It was the second straight road win for the Golden Flashes, who beat Nebraska on Saturday and have played better in close games so far this season than the Penguins.
"Every road win is huge; it's not easy to get them," said Kent coach Rob Senderoff.
"Youngstown, at the end of the year I think you'll see them with 17-18 wins. I think they're very good. So for us to come on the road and beat them here, I think it's just a great win for us."
Perry scored 26 points and Eargle added 18 points, 10 rebounds and four blocks to become the Horizon League's career leader in blocks. He entered the game tied with Evansville's Dan Godfread (1985-90) for that record with 226.
But YSU made just 4 of 20 from the 3-point line — Allen had a particularly uncharacteristic night, making 2 of 8 from behind the arc — and the Penguins were outrebounded 46-38 by the bigger, longer Flashes.
"They just made a couple more plays than us," Perry said.
Evans had 24 points and 10 rebounds and Holt had 21 points for Kent, which has won five straight in the series.