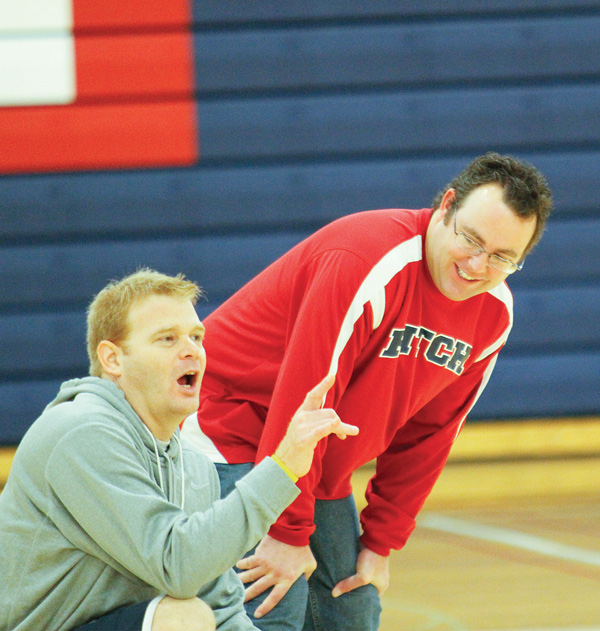 ---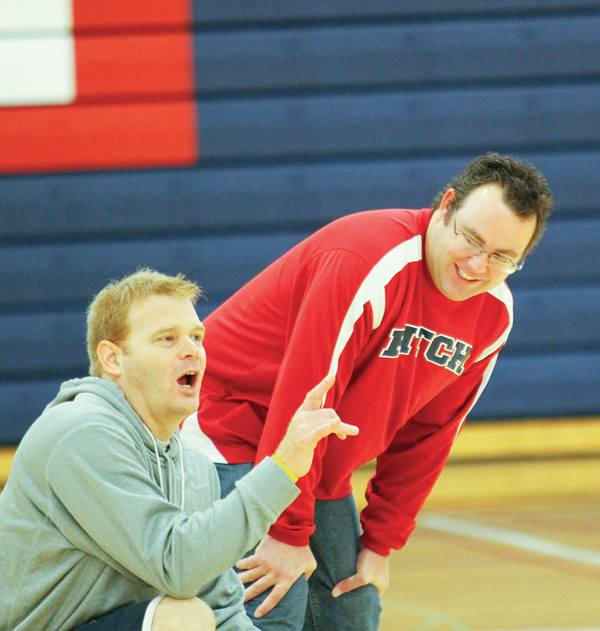 Photo
Dan Horacek watches coach John Hudson during a practice. Horacek teaches at the University Project Learning Center, an alternative school in the Youngstown district.
By Ryan Buck
news@vindy.com
YOUNGSTOWN
Life isn't usually pleasant or fair for many of the students at the University Project Learning Center on the East Side.
UPLC is the alternative school for Youngstown City Schools. The boys and girls are sent there from other city schools and are a stew of challenges — most enduring behavioral, emotional or learning disabilities.
Many live in foster care or group homes. Nearly all come from economically disadvantaged backgrounds.
Odds are stacked against them.
Their teacher, Dan Horacek, has had many odds stacked against him, too.
In fact, the kids he tries to reach might be his easiest feat. Together, they might be a perfect match.
"I love watching these kids learn," said Horacek. "The smallest thing is a big accomplishment for these kids. Seeing them learn a topic, specially in geometry. I've been on the same topic for about three weeks, and they're finally starting to understand it."
The first-year teacher at UPLC is not hard to spot. He walks the hallways with a pronounced limp — a constant reminder that anything is possible. As pronounced as the 31-year-old's walk is, so too is his smile.
"I love being a teacher," said the man who pursued a degree and
certification in special education at Youngstown State University after leaving his expected hospitality management major one semester shy of graduating. "You have your callings. Everybody's calling is different. This is mine."
Students, many of whom should be nearing high school graduation and able to pass the Ohio Graduation Test, are instead just hoping to be admitted back to their original school.
"Minimum gains you may not see in a regular high school, you see here. The school's challenging, and it keeps me on my toes. It's stressful, but it's fun, though. There's something different every day."
Horacek has been something different since birth.
"My parents adopted me when I was three months old," Horacek said. "I don't know my biological parents. When I was born, [my mom] was 15 or 16 years old. The best thing she did for me was put me up for adoption because there's no way that she'd have been able to care for me the way my parents did."
Horacek was born with cerebral palsy. Learning disabilities later would reveal themselves in math and reading.
"My parents are very special people," he said. "They knew I had a disability and adopted me anyway."
Lynne, an elementary school teacher, and Paul, in sales, were the ideal home for a new son.
"It was not our intent to adopt a special-needs child," Lynne said. "It's just the way it worked out. We felt that it was his way of coming into our life and our way of creating a family."
Horacek's childhood in Austintown was challenging — disabled, teased, etc. But a strong support system fused with a natural love of sports enriched an unshakable force.
"Cerebral palsy — it's a spastic disability," said Horacek. "Your tendons and muscles are tight.
"I did a lot of different therapies growing up: speech therapy, eye therapy, physical therapy. I had two Achilles tendon surgeries and two hamstring surgeries, two on each leg and a lot of rehab. I get my fighting spirit from my parents because they would never let me just sit on the sidelines."
Horacek joined friends in Austintown recreational soccer and basketball leagues. Basketball is his first love, which he parlayed into the team-manager position and invaluable presence for the Fitch High School varsity.
"I try to find things where I'm on an equal playing field with people," said Horacek. "I love when people tell me that I can't do something, so then I get to prove them wrong."
At 13, he took golf lessons from YSU women's coach, Roseann Schwartz, and at the Giant Eagle LPGA Classic. His golf game blossomed when we was able to play up to four times a week during summers.
Horacek entered the 2012 Greatest Golfer of the Valley tournament presented by Farmers National Bank in the 15+ Handicap division. While competitors rode in carts on the Mill Creek Park Golf Course in 90-degree temperatures on opening day, the man who has difficulty walking did just that — with a sprained ankle.
"I never really considered myself having a disability," said Horacek. "I still don't."
Horacek overcame a two-stroke deficit on the back nine in the tournament's final round at The Lake Club to win his division.
"I can still think about that, and it just puts a huge smile on my face," said Lynne Horacek, just one of many cheering him on that day. "It was such a culmination of so many things. He wanted to be the best that he could be. That's the gift ..."
His tournament caddie, Raymond Penny, followed his friend that weekend in awe.
"He's an inspiration," Penny said. "My wife brought the kids out, and I had another friend who was playing."
"We came here to watch Dan," said the children.
After months of training with roommate Dan Schnurrenberger, Horacek followed up his victory with another major achievement. With family and friends cheering him on, Horacek completed the Oct. 13 Midtown Cleveland Healthline Classic 10K race — seven minutes under his personal best.
Schnurrenberger, the assistant head coach with Fitch varsity basketball, has persuaded Horacek to assist with the program this season after a six-year absence from coaching.
"Being a competitive person, I get a big rush after teaching a good lesson," said Horacek, who is able to transfer that mindset to the classroom. "Having a disability, I sort of understand what these kids go through. I try and teach it in ways that they'd understand."
He and assistant Veranda Seawood teach two classes of 13 special-needs students the basics of geometry, world history and science.
"He believes in the philosophy that these kids can be college- and career-ready," said UPLC Principal Tod Morris. "That's not something we've always talked about. We can't judge these kids in saying, 'Just because you're at the alternative school, you can't do that.' You can't put 'you can't' on things.
"Their past mistakes or current mistakes or whatever's going on in the streets stop at the door."
Morris has spent 11 years in the district and five-plus at UPLC and treasures educators such as Horacek.
"I lost a daughter who had special needs," Morris said. "I carry that with me here. With that perspective, it's that I would never want my daughter typecast as other than she can do anything possible. I'm sure inside his head he's thinking the same thing: Anything's possible."