Austintown teens learn work skills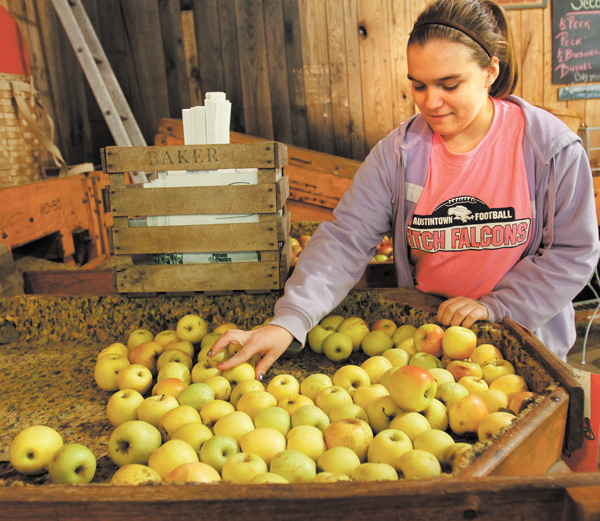 ---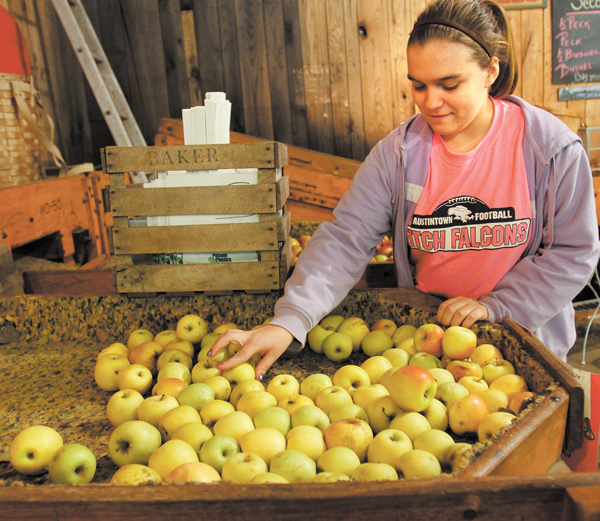 Photo
McKayla Gaus, a ninth-grader at Austintown Fitch High School, sorts through apples to pull out the bad ones at Hartford Apple Orchard. McKayla was part of a group of Fitch students who came to the orchard Tuesday to learn skills needed to be successful in the workplace.
By SUSAN TEBBEN
stebben@vindy.com
HARTFORD
Hartford Orchard has hosted many families and events throughout the season, but on Tuesday, those visiting the orchard were put to work.
Students in the vocational-studies program of Austintown Fitch High School were there to learn what it's like to work and learn skills needed to be in the working world.
"They don't necessarily learn all parts of a job, but they learn how to do things that they'll need to know to go out into the world," said Amanda Shrader, the high school's intervention specialist.
Shrader's group of ninth- to 12th-grade students work with the Mahoning County Educational Service Center to find jobs around the area where they can learn various tasks and how to adapt to changing environments. The focus is on real-world applications.
"I can teach them money skills in the classroom, but I can't teach them how to run a cash register," Shrader said.
Running the cash register was one of the jobs Carlos Acevedo enjoyed most as he worked around the orchard. He knew what he was learning would be important to employers later on.
"It's experience," Acevedo, a junior, said. "If they [employers] see the hard work that we're giving, they can pick you for a job."
The orchard was the first of the places the class is planning to go. In previous years, they also have worked at the YMCA and the Second Harvest Food Bank of the Mahoning Valley.
The benefit of Hartford Orchard is that the business is locally owned, so the owners can allow students to run the register and stock shelves without corporate approval.
The students were encouraging toward one another, they said, helping each other finish jobs and keeping one another focused.
"It's good we're learning about money, cleaning and getting fresh air, too," said senior Quentin List.
Shrader credited the high school for its part in helping coordinate the program and getting the students involved.
"Austintown has been very forward-thinking in this," Shrader added.