Eargle's 226 rejections are a Youngstown State men's basketball record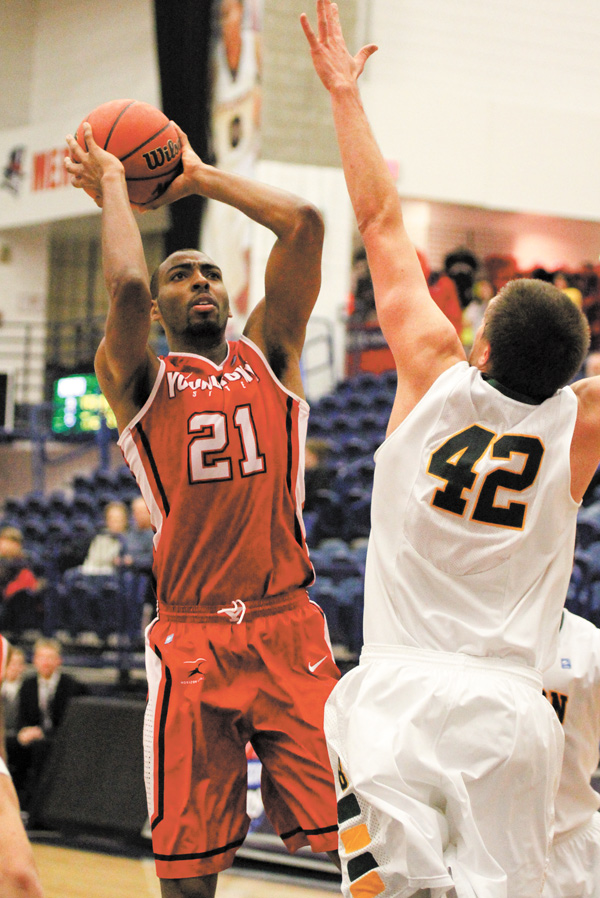 ---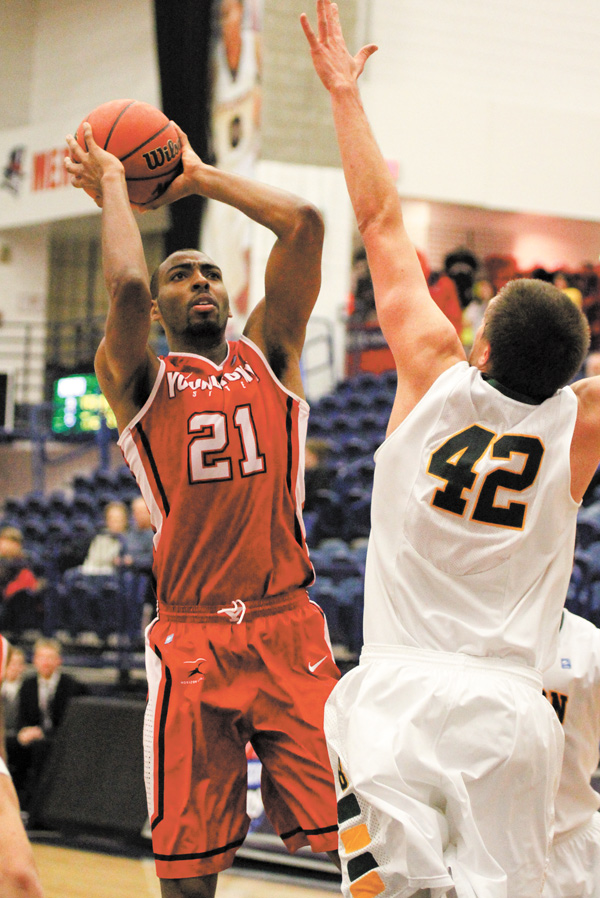 Photo
Youngstown State senior Damian Eargle (21) passed the 1,000-point milestone last week against James Madison, the same game in which he broke YSU's career blocks record.
By Joe Scalzo
YOUNGSTOWN
Damian Eargle has the wingspan of a pterodactyl and better timing than David Letterman, so when he entered this season needing 15 blocks to break Ricky Tunstall's Youngstown State career record, the only question was whether the record would fall before or after Thanksgiving.
"This sounds cocky but I knew I was gonna get it," said Eargle, a Youngstown native and Warren Harding High graduate. "I mean, that's what I do. I have really good timing when it comes to blocking shots. It was just like, one of these days I'm gonna get it. It was just when.
"I'm happy I did it."
Eargle has 226 blocks, five more than Tunstall, a 7-footer who earned the nickname "Standstill" for his dominant, but stationary, style in the post from 1982-84.
While Eargle's 116 blocks last season were 22 fewer than Tunstall's single-season record, his ability to guard multiple positions, inside and outside, has made him arguably the most indispensable player on YSU's roster since his career began in 2010.
In the same game he broke the blocks record last week against James Madison, Eargle passed 1,000 career points, with 755 of those coming with the Penguins. (He spent his first season at UNC-Greensboro.) At his current pace of 12 points per game, he'll need 20 more games to become the 33rd Penguin to reach the century mark.
"A lot of people don't reach 1,000 so it's a good feeling," Eargle said. "But on a side note, you have to win games with it, too. I'm more concerned about the wins, but I'm happy I finally did it."
Eargle, a 6-foot-7 senior, was a Horizon League all-defensive team selection last season and is a frontrunner to win the league's defensive player of the year. With 283 career blocks, he needs 109 to break into the NCAA's top 25 on that list. He needs just one more to set the league's career blocks record, a mark he shares with Evansville's Dan Godfread (1985-90).
"I'm happy and proud of Damian," said YSU coach Jerry Slocum. "I think he's come a long way in every aspect, not only in basketball but I think he's had a great experience here in terms of his life and I'm proud of him and the fact that he's gotten to be a very good defensive player but improved his offensive skills."
Those skills will be tested tonight against Kent State, which was one of the schools that recruited him out of high school. (Fellow Mid-American Conference member Akron was the first school to offer Eargle a scholarship.)
Eargle admitted that games against schools like Kent, Akron and Cleveland State mean more than others on the schedule. He is 0-3 against those schools and with Akron not on this year's schedule, tonight is his last chance.
"I've never beat Akron or Kent, so it's a real rivalry to me," said Eargle. "It's a real big deal."
While many YSU fans view Akron and Kent as bigger rivals than any Horizon League school, the game is meaningful because, with a three-game losing streak, the Penguins could use a confidence boost.
"It took you three weeks to get to three wins and three days to get to 3-3," said Slocum, whose team fell to North Dakota State (83-80, OT), James Madison (69-68) and Duquesne (84-74) on back-to-back-to-back days last week. "It's a tough stretch for us.
"I don't think we've played bad. I don't want to give the impression that we lost three in a row by playing terrible basketball. There's a fine line between winning and losing. I thought we played well all three games. We just didn't finish them."