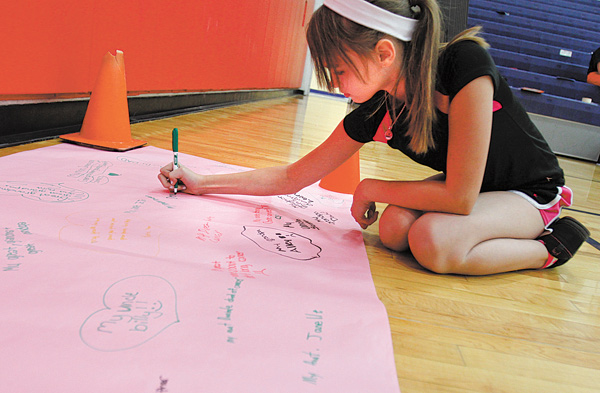 Photo
Austintown Middle School students are talking about their families' struggles with various types of cancer. Here, Devyn Coast signs a paper with the names of people in her family.
By SUSAN TEBBEN
Austintown
Sixth-grade teacher Dorothy DelBoccio didn't know her father's battle with cancer would inspire a project that would hit home with her students as well.
But after DelBoccio shared the story of her father's battle with esophagus and lung cancer to her students at Austintown Middle School, another teacher shared his story.
Soon the students followed with their families' struggles with various types of the disease.
"It's such a debilitating disease," DelBoccio said. "It's very humbling to listen to the kids and remember that they have other things going on in their lives as well."
The students shared their projects Monday morning with a "Jimmy V Day" of awareness and exercise in honor of their chosen charity, the V Foundation.
The foundation was co-created by North Carolina State University basketball coach Jim Valvano, a favorite of DelBoccio's father's.
Through the work of the students, more than $1,500 was raised for cancer research in less than a month, DelBoccio said.
The V Foundation uses donations such as those from AMS to award some of the more than $90 million to more than 100 facilities in the country, according to the V Foundation website.
Basketball was a favorite among the students who participated, including Taylor Ceja and fellow AMS sixth- graders Sierra Cortez and Haley Castellano.
For Taylor and Sierra, they worked on the project with thoughts of their family inspiring them.
Taylor's uncle is currently undergoing chemotherapy, and Sierra's grandfather also had cancer.
"We learned how to get awareness out, and I asked my family for donations," Taylor said.
The project was cross-curricular, according to DelBoccio, who helped the students create an AMS Kids for the Cure fund- raising account on firstgiving.com for online donations.
The students' goal is $1,700, according to the website.
To donate to the AMS Kids for the Cure, visit www.firstgiving.com/fundraiser/dorothydelboccio.