---
Tuesday, November 27, 2012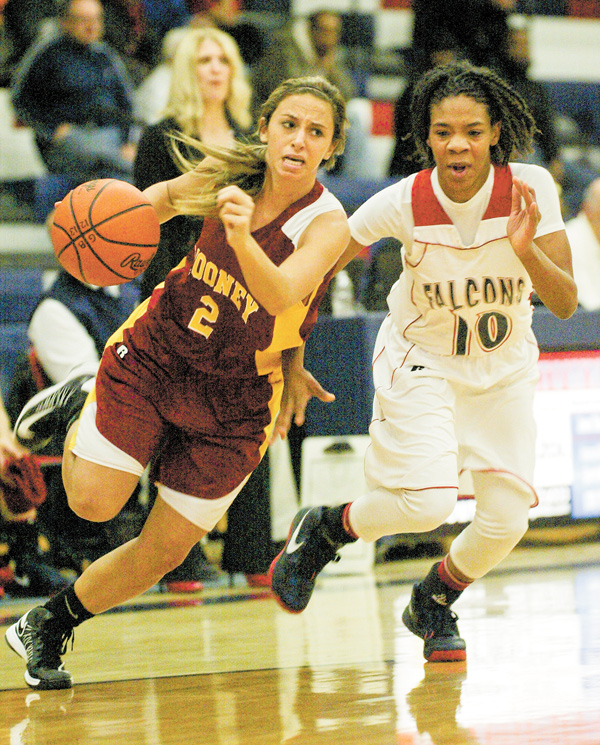 Photo
Mooney's Jamie DiDomenico (2) drives around Brenda Thompson (10) of Fitch during first half action Monday at Fitch. The Falcons ran past the Cardinals, 63-37, in the first game of the season for both teams.
By Tom Williams
AUSTINTOWN
A 15-point loss to Cardinal Mooney last season was all the motivation the Austintown Fitch High girls basketball team needed to start the season soaring.
Behind solid outside shooting from junior Megan Sefcik and senior Brenda Thompson, the Falcons overcame a sluggish start to defeat Mooney, 63-37, on Monday.
Thompson said the Mooney loss "pushed us to work harder this year. To get this win tonight is such an accomplishment to start off the year."
Sefcik described the Mooney loss as humbling. "It was a big motivation," said Sefcik who scored 27 points and blocked two shots.
Trailing the Cardinals 12-9 after one quarter, Thompson tied the game with her first basket.
Sefcik then connected for three of her four 3-pointers as the Falcons opened up a 26-20 halftime lead.
The Falcons opened the second half with a 13-0 run that turned the game into a rout. In the final three quarters, Fitch outscored Mooney, 54-21.
Fitch head coach Stacie Cepin admitted her halftime pep talk "was a little motivational.
"We started off slow — that was a little frustrating," Cepin said. "Give credit to Mooney — they hung back in that matchup zone they were in and it slowed us down. We want to run."
The Falcons were all over the court in the third quarter. Thompson and Sefcik hit 3-pointers in the big run. Sefcik also scored a basket and two free throws while sophomore Aaliyah Sadler scored three of her 10 points.
"We had a pretty decent second quarter," Cepin said. "We're pretty deep on our bench. That's one of our goals this year, to use a lot of players and wear people down. And I think that kind of got to them."
Junior Jamie DiDomenico led the Cardinals with 13 points.
Four of Sefcik's 10 baskets were 3-pointers. Thompson made three and finished with 11 points.
"We have a couple of threats from 3-point land," Cepin said. "We have an amazing player in Megan Sefcik, but when you have some other pieces to the puzzle, that helps."
Thompson said outside shooting is a new skill she's working to improve.
"I just started shooting 3s," said Thompson, explaining that with her speed, the coaches are in favor of her taking the ball to the basket. "I've been practicing my 3-point shot and it's getting better."
Thompson said that when her first long-range shot went in, she felt relief.
"It was like a jump for joy [moment]," Thompson said. "After that is when I felt hot. I become confident in my second shot."
Sefcik said she gets a lift when she connects from down range.
"Once one goes down you hope they all go down, but when you miss one, you can't let that bother you," Sefcik said. "I missed my first [3-point attempt] but I kept shooting because I'm a shooter."
Sefcik is being recruited by Division I programs.
"It's my life," said Sefcik who gave up softball two years ago. "This is my first love — this is what I love to do."
Thompson called Sefcik "a great, great player. We can depend on her whenever we need a shot. Whenever we need a quick basket, she's there."