Long, successful day for area hunters on beginning of Ohio deer-gun season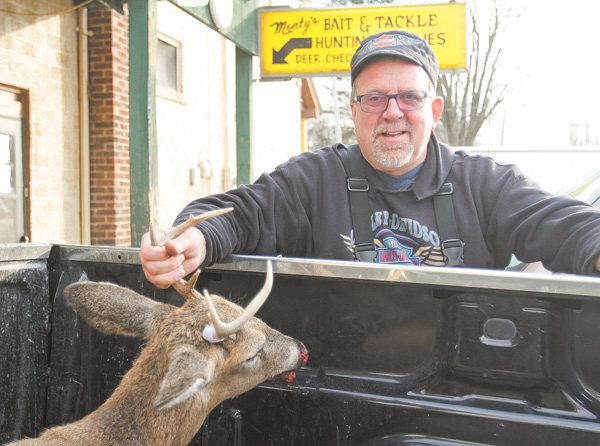 ---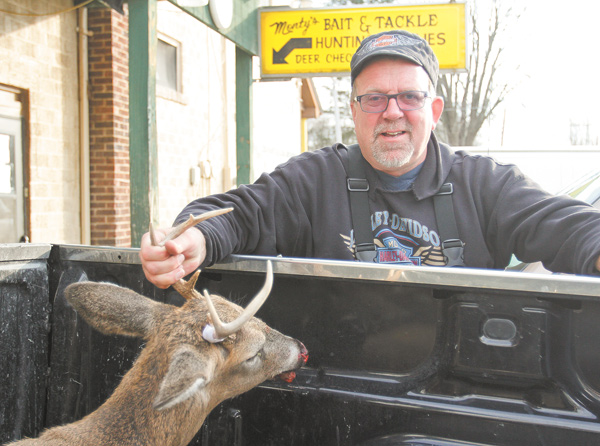 Photo
James Govenor of Cortland shows his buck that he bagged Monday morning on the opening day of the deer-gun season in Ohio.
By Tom Williams
CORTLAND
Although hunters now have the option of registering their kills online, one deer checking station employee thinks licensed agencies will continue to be busy.
"Quite a few guys told me they went to check their deer in [online] and saw what they had to do, so they decided to bring it here," said Allen Byer who was working Monday afternoon at the deer checking station at Monty's restaurant near Mosquito Lake.
"They're telling me it was too much of a hassle," Byler said. "And if you do it online, you do have to have a printer so you can print out your info."
Busier shift than expected on he first day of whitetail deer-gun season?
"Definitely," said Byler of Bristol who had spent the morning hunting.
Among those at the station were James Governor of Cortland who shot a 7-point buck after a six-and-a-half hour wait.
"It was probably about 6:30 when I got up into the [deerstand]," Governor said. "At 11, I saw two does but I don't shoot does."
At 1 p.m., he found his target.
"It was a nice day — I had a hard time keeping from dozing off," Governor said of Monday's sunshine and 40-degree temperature.
It was a better experience than last year's opening day.
"I let two 6-points go, I was waiting for a bigger one," Governor said.
He didn't see any then and he suspects the deer population is down.
"I think the coyotes have eaten most of them," Governor said. "I farm here in Mecca and the deer population I see being out in the fields all the time is probably down 50, 60 percent from three years ago."
Governor estimates he's been hunting for about 45 years.
"I started doing it with my dad and grandfather," Governor said. "I'm still going — I just enjoy being in the woods more than [anything]."
After several years off, Rob Hornak of Warren has returned to hunting and has bagged a buck in consecutive years.
"I used to hunt but I fell out of it," said Hornak who resumed hunting several years ago and landed an 8-point buck last year.
His wait on Monday wasn't long.
"After about an hour-and-a-half, I saw a herd of does go across a swamp," Hornak said of his experience in Lordstown. "A [6-point] buck came along and I dropped it."
Hornak wasn't as thrilled with the sunshine.
"I'd rather have snow on the ground, but I was still able to see them pretty well." Hornak said. "They were loud coming through the woods, they were moving so it wasn't a bad day."
Not everyone was successful. Dave Kellar of Cortland was waiting at Monty's while his brother, Jack, registered two does he shot in Geauga County. "He brought them down so we can take them over and get them butchered," said Dave Kellar, who got up at 5:30 a.m. and saw no deer.
Is it similar to how children can't sleep late on Christmas morning because of the excitement?
"The older I get, the less it gets exciting," Kellar said with a laugh. "But I go out there with my son [Clint]."
The Ohio Department of Natural Resources estimates that 420,000 will be hunting deer this week and 80,000 deer will be tagged and checked. Gun season ends Sunday but there will be two extra days — Dec. 15-16.
"The good news is that as far as we know, nobody was hurt in Mahoning County," said Tom Frank, Mahoning County Wildlife Officer.
Monday evening, Frank said he had not heard of any hunting accidents in Northeast Ohio.
Byler said his morning was less productive than his busy afternoon.
"Didn't see anything worth shooting," Byler said. "I shot [a deer] with a bow earlier. I've been waiting for a buck."
Byler said the registration process gets simpler — once the hunter is registered in the system, they receive a customer ID number.
"It's just like a Social Security number that will forever be his number," Byler said. "When he comes in [again], I can just punch that number in and [his information] already will be [in the system]."