Adorning Idora: Block now a model of success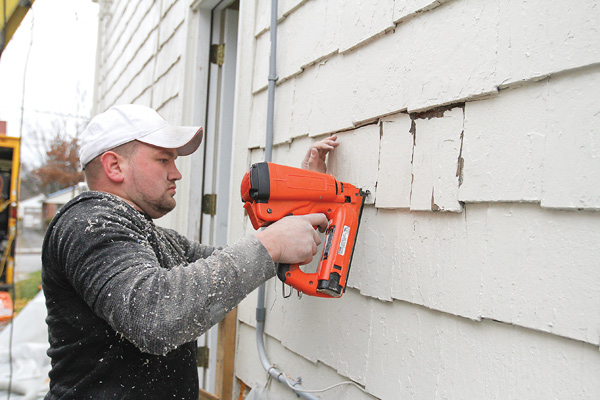 ---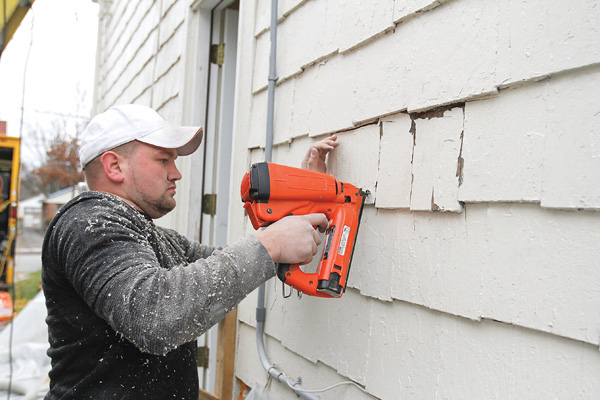 Photo
Mike Sackela replaces siding after blowing insulation into a wall during renovations at 867 Lanterman Ave., the last house being rehabilitated in the Youngstown Neighborhood Development Corp.'s Lanterman Model Block project in the Idora Neighborhood.
YOUNGSTOWN
The Youngstown Neighborhood Development Corp. wants to showcase a model block in a historic South Side neighborhood.
In a concentrated neighborhood improvement strategy, it now is renovating the last of a series of homes in its Lanterman Model Block project on Lanterman Avenue in Youngstown's Idora Neighborhood.
Over the past 21/2 years, the nonprofit corporation has spent about $500,000 on demolitions of two houses and on renovations or repairs to 11 single-family dwellings on the one-block street.
That street is in the shadows of Mill Creek Park's restored 1845 vintage Lanterman's Mill at Lanterman's Falls.
Seven of those dwellings were vacant houses bought and fully rehabilitated by YNDC.
"We wanted to start our rehab efforts on streets that had issues but also had potential and where we could be successful," said Ian Beniston, deputy director of the local urban development organization.
"If you take a strategic and a planned approach to this type of housing work, you can actually make an impact," he observed.
"It's very close to Mill Creek Park and Lanterman's Mill. It's a marketable area. It wasn't too far gone in terms of [housing] vacancy rates," Dominic Marchionda, YNDC's housing program coordinator, said of Lanterman Avenue.
The corporation's effort is being paid for by federal funds obtained through the city's Community Development Agency and by contributions from the Raymond John Wean Foundation, Home Savings and PNC, Chase and Huntington banks.
Renovations on the last of the homes, a vacant former rental property at 867 Lanterman Ave., began two weeks ago and will be completed about a month from now.
Mahoning County Auditor's Office records show that YNDC bought the six-room, two-story, 1926 vintage, single-family house from an out-of-town landlord for $9,500 in September.
YNDC expects to spend about $90,000 to renovate the house, including giving it a new roof, a new high-efficiency electric furnace, insulation, new energy-efficient windows, all new doors, new plumbing fixtures and kitchen cabinets, refinished yellow pine floors, a waterproofed basement, restored siding, exterior painting, a new garage and a repaved driveway and sidewalk.
"Basically, what we're doing to this house is making it a brand-new house again. ... If you put it in that context, $90,000 is actually much cheaper than it would cost to build a house of this quality," Beniston said. "This house will last another 80 years when we get done with it."
"We try to make these homes as sustainable as possible in terms of energy use" and keep their utility bills affordable for their residents, Beniston said.
"I live in Youngstown. I grew up here. These homes have been going downhill. It's nice to see them built back up," said John Potkay, foreman with the renovation contractor, American Pinnacle Construction Co. of Youngstown.
"Neighbors get involved, too, and they want to fix up their own homes. It kind of helps the whole block out" when YNDC renovates homes, he said.
YNDC favors city-based and minority-owned contractors to perform the work, Beniston said.
Once the renovations are complete, YNDC plans to sell 867 Lanterman for about $40,000, Beniston said.
"They're all single-family dwellings, and they're all sold for homeownership. We don't do rental properties at this point. We do have a homeownership training program" and mortgage loan fund for the potential homeowners, he said.
Beniston said the investment is worthwhile in an effort to stabilize the neighborhood around the former Idora Park, an amusement park that operated from 1899 and 1984.
Another aspect of the model block is a landscaped lot with a split-rail fence around it at Lanterman and Billingsgate avenues, where YNDC demolished two dilapidated and vacant houses.
The model block is adjacent to YNDC's Iron Roots Urban Farm at 820 Canfield Road, which trains city residents in agriculture while growing produce for sale in local farmers markets.
The urban development organization would like to restore a tree-lined center island to Billingsgate Avenue, which was once the main entrance from Canfield Road to Idora Park, and redevelop the 30-acre former amusement-park site.