Mostov-Kay nuptials set for August 2013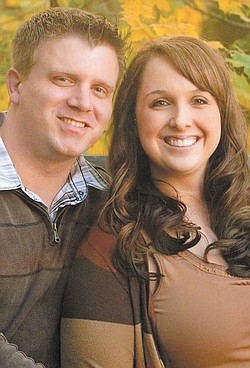 Photo
ROBERT KAY AND SARAH MOSTOV
GIRARD
The engagement of Sarah Mostov and Robert Kay, both of Girard, is announced by the mother of the bride-elect, Theresa Mostov of Girard.
Parents of the future groom are Bob and Sue Kay of Girard.
Invitations will be extended for the couple's wedding ceremony set for 2 p.m. Aug. 3, 2013, at St. Rose Church, Girard, and an evening reception at Fifth Season Banquet Center, Mineral Ridge.
The bride-to-be received a bachelor's degree in health sciences from Slippery Rock University and is studying for a doctorate in physical therapy at Youngstown State University. She is a part-time faculty member for the Department of Health Professions at YSU.
The future groom received a bachelor's degree in applied science from YSU. He is a clinical laboratory specialist at St. Elizabeth Health Center, Youngstown.