Austintown couple persevere through his Alzheimer's
RELATED: Alzheimer's Early-detection program aimed at companies
By DENISE DICK
denise_dick@vindy.com
AUSTINTOWN
Nearly four years after Barry Claycomb's diagnosis of Alzheimer's disease, he and his wife, JoAnn, take things one day at a time.
Joann and Barry Claycomb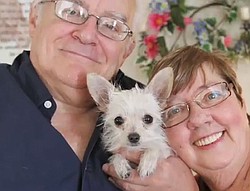 Video
More than 5 million Americans have Alzheimer's Disease — 230,000 of them in Ohio and 60,000 in eastern Ohio. November is National Alzheimer's Disease Awareness Month. We take a look one year later. at JoAnn and Barry Claycomb
JoAnn, 66, has seen changes in the last few months in her husband of 47 years. Barry realizes the changes, too.
"When I think of something, I have to say it right away or I lose what I was going to say," said Barry, 68.
And he's slowed down quite a bit, JoAnn said.
This marks the third time the couple has talked to The Vindicator about Barry's disease and how they cope with it. November is National Alzheimer's Disease Awareness Month.
More than 5 million Americans have Alzheimer's, according to the
Alzheimer's Association. About 200,000 people younger than 65 have Alzheimer's or a related dementia and more than 15 million people are caring for a loved one with the disease, the organization reports.
It's a brain disease that produces problems with memory, thought and behavior.
There is no cure. The disease is fatal, but medications may slow the progression.
"If I tell him to do more than one thing, then it throws him off for a day," JoAnn said.
Still, she's been impressed with how he's handled household tasks.
JoAnn fell and tore her rotator cuff in April and underwent surgery last month. Doctors forbade her doing anything around the house. That left a lot of the responsibility on Barry.
Friends and relatives helped with driving the couple to appointments or the grocery store and with providing meals, but Barry cleaned the house and did the laundry.
She has seen progression, though, of the disease with which he was diagnosed in May 2009.
"He forgets to eat," she said.
"I eat when I'm hungry," Barry protested.
He mostly remembers the people closest to him although he often sees people in a store, recognizes them but can't remember who they are.
He still has good days and bad days, but his temper has grown short, and he gets frustrated.
"I just feel like I'm not a human being anymore," Barry said. "I feel like a nobody."
JoAnn disagrees.
"You are somebody," she scolds. "You're somebody very special to me."
They still discuss finances and other important decisions couples make together, but the final say is JoAnn's.
She's had to learn to let it go if Barry insists on something that she knows not to be true. It's not worth upsetting him.
JoAnn does get irritated, though, with some families of others with the disease who just set the person in a corner with little to no interaction.
"They're still a person," she said.
Alzheimer's doesn't have a look, a typical sufferer, JoAnn said. Someone with the disease appears healthy from outside appearances.
Barry, concerned about his wife and how his illness is affecting her, told a relative that JoAnn should just put him in a nursing home and get on with her life.
"You're not going anywhere — not at this point," she said.
They've talked about nursing homes and even visited a few so that Barry has some say in his future care, but JoAnn plans to keep him at home for as long as she can.
Barry's nephew takes him for a few days here and there to give JoAnn a break and to take Barry to do "man things," like visiting a hardware store.
He says that's important, helps him to feel more like his old self.
JoAnn made flashcards with photos of family members on the front and their names and biographical information on the back. Sometimes she gets them out to keep Barry working and to try to preserve some memories.
On a good day, Barry is still able to do some of the things he used to do even if it takes him longer to do them. He recently made a stand for JoAnn to hang her jewelry.
"He still does a lot," JoAnn said.