Thanksgiving dine-and-dash for deals
Black Friday Shoppers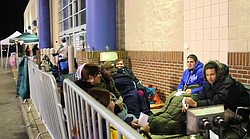 Video
A 15 year-old waited more than 2 days outside a Best Buy store to get a Black Friday Deal.
Black Friday Shoppers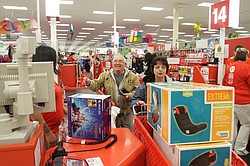 Gallery
Area shoppers got an early start Thursday.
By JAMISON COCKLIN
jcocklin@vindy.com
BOARDMAN
Black Friday tipped off early this year, dispatching eager shoppers fresh from their Thanksgiving tables — or before they even sat down — to take a place in line as the holiday shopping season kicked into full gear.
Unlike years past, most of the area's leading big-box stores elected to open between 8 p.m. and midnight Thursday, while a few opened earlier in the day, forcing Valley consumers to adjust their turkey day traditions in order to seize limited supplies and the banner deals that have come to signify the holiday.
Kaileigh Christy, 14, of East Liverpool was wasting no time, and said her holiday shopping would be done sometime by 8 a.m. today, as she stood in line at Kmart in Boardman.
With the help of her mother, Beth, and her older cousin, Allison Pallard, who described herself as the evening's "shoperone," Christy was able to develop what the three called their "war map," which outlined all the area stores they would hit along Route 224 as they opened and sales hit their peak.
The group even had a contingency plan for shops in Beaver, Pa., where they were headed afterward.
"I don't mess around," Christy said with a smile. "I cut everything out that I want and all my holiday shopping will be done tonight."
She estimated that she would spend $300 of her own money on everything from clothing and cooking supplies to electronics and toys for her family members.
Nearby at Target, a sense of camaraderie was building at the front of a line where nearly 60 people had queued up for the store's opening at 9 p.m.
Allison and Olivia Schaeffer, both in their teens, made their way two hours from Wakeman — about 25 miles southeast of Sandusky, along with their friend Catherine Blackwood. The group lined up at Target about 1 p.m. with the hopes of scoring Cody Simpson Dolls and The Elf on the Shelf — an interactive imp who informs Santa who belongs where on his Naughty or Nice list.
No sooner had they secured the first spot in line when Angela Leek and Christine Kutz, from Salem and Lisbon, respectively, plopped down chairs beside them. The group met at Target last year.
"It's no fun to shop online, and I can tell you these girls are shopping for themselves," Leek said, laughing. "We love doing this and we'll probably see them again next year."
Allison chose Target because she couldn't find an Elf on the Shelf anywhere else — to her it was a necessity.
Around 7:30 p.m at h.h. gregg the mood was no different. Sandy and James McCune of New Castle, Pa., had been posted by the doors since 11 a.m. for a 10 p.m. opening there.
"She had everything in the truck, and we decided to come here so we could be first in line," James said as the couple sat with a pop-up table where they had eaten their Thanksgiving meal earlier in the day. "My son and daughter-in-law brought us dinner. We're here for a flat screen and tablet I guess."
This year, a battle of wits has ensued between black Friday veterans and the big-name retailers hoping to steer them away from online shopping and keep them in-store longer.
By blending Thanksgiving with Black Friday, some offered up periodic "doorbusters," with outlets such as Walmart providing tempting deals at 8 p.m., 10 p.m. and 5 a.m. to keep consumers shopping.
Many also have rolled out advanced smartphone apps to help guide shoppers to deals and keep things more orderly, like in-store maps highlighting where sale items can be found. Others filled Twitter feeds with advice and information on navigating crowds and traffic jams.
James McConnon, an economist at the University of Maine who specializes in retail sales, says consumers have grown more savvy in finding the best ways to stretch their holiday dollars.
"The big-box stores have a pretty good idea of their target customers and how they react," he said. "They want to get customers in their stores by pricing items at elastic and responsive rates."
Retailers can afford to slash prices by as much as $100 on certain items, McConnon said, because the banner sales promote what he described as cross-shopping for nonsale items, which helps offset the price decline on others.
Lines Thursday night were averaging between 50 and 60 people at most stores, but they grew as the night wore on. At Toys "R" Us, hundreds of customers wrapped around the building for the store's first Thanksgiving opening at 8 p.m.
Most of this year's Thanksgiving shoppers seemed to have a better outlook on the overall economy, with many planning to finish all their holiday shopping in one night, and most expecting to shop early into the morning.
"Even if I wasn't going to buy anything, I'd still come out for this — it's too exciting to miss," said Tara Patris of Austintown as she stood in line at Best Buy. "I guess it's kind of ruining Thanksgiving now that the stores are opening earlier, but I still left my husband at his parents' house. This is my favorite day of the year."