Struthers neighbors plan dinner to help boy who had brain tumor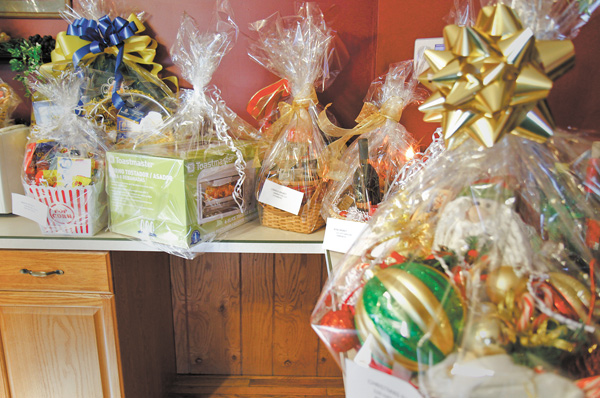 Photo
These baskets will be part of a silent auction and spaghetti dinner to benefit the Cook family of Struthers, whose 14-year-old son, Ty, recently had a brain tumor removed. The dinner will be Dec. 1 at St. Nicholas Great Hall on Fifth Street in Struthers.
By Jeanne Starmack
Struthers
A close-knit group of neighbors who live on and near Center Street in Struthers has decided to throw a dinner party.
They're already expecting 700 people, but that's OK — you can still get in on it.
You can get your tickets at the door of St. Nicholas Great Hall at 762 Fifth St. in Struthers on the night of the dinner, which begins at 6 p.m. and continues until 10 p.m. Dec. 1. They are $10 for adults and $7 for children 12 and under. Children under 3 eat free.
You'll be dining on spaghetti and meatballs, salad, bread, desserts and soft drinks.
As you do so, you'll be helping these neighbors lighten the load for the family of Ty Cook, 14, who lives near them on West Faith Street. He was diagnosed with a malignant brain tumor in September. The dinner will raise money for his parents, Angela and Shawn Cook, who both work but have had to take time off intermittently.
Peggy Laughner is organizing the dinner with help from Eve Trimacco and Nicole Smith, and Ty's aunt, Michelle Nock.
"I have never done this before," said Laughner as she talked about planning the dinner and gathering donations for it.
"I don't think any of us have," she continued as the group talked of businesses and friends who are stepping forward to help.
On Laughner's kitchen counter were several baskets wrapped in colorful cellophane, made up by family friend Suzanne Tucci. She donated her time and money to put them together for a silent auction at the dinner, they said.
The baskets include gift cards donated from local businesses. A friend, Brandy Brabant-Eisenbraun, stepped in to organize the auction because "we were going nuts, and Brandy knew it," said Laughner.
On a hanger on the back of the kitchen door was a $400 Jovani prom dress donated by Jacqueline's Bridal.
Other prizes include two huddle passes for the Pittsburgh Steelers, four tickets to a basketball game and four tickets to Disney on Ice.
St. Nicholas Parish donated the use of the hall.
Bob Duncan of Loretta's Catering in Struthers is donating his time to cook at the dinner.
Supplying food are local distributors Gia Russa, Tamarkin and Dineiro's.
Arby's of Cranberry Township, Pa., is donating napkins, cutlery, plates and bowls.
Mary Bundy, a teacher at Struthers High School, is tutoring Ty so he doesn't fall behind in his school work.
"People who see a child with cancer just want to do what they can to help," said Laughner.
"Everybody's got him on every prayer list," said Nock.
Those prayers seem to be working. Ty, whose ordeal began in August with unexplained vomiting, has an excellent prognosis since a golf-ball sized tumor was removed from his brain Sept. 27.
It was a medulla blastoma, Nock said. "And they did get everything," she said.
Ty had to go back to the hospital recently because radiation therapy burned his esophagus, and he needed pain management.
But his spirits were rising, and he was holding down food, his father said this week.
Ty must have 55 weeks of radiation and chemotherapy treatments, and he will be in and out of the hospital during that time. Because the tumor was large, his father said, surgeons had to cut it apart to remove it. Radiation and chemotherapy should take care of any free-floating cells that are left, and the slow-growing, non-invasive cancer responds well to treatment, he said.
Cook said the family has been coping fine with Ty's illness.
"It all happened so fast. It's been hectic, and we haven't had time to sit back and think," he said. "We're focused on Ty's care and managing the household."
Meanwhile, the neighbors are focusing on supporting their friends and the boy they call "an old soul," who loves babies, loves to bake and is at home talking to adults as much as he is talking to his peers.
"Our neighborhood is amazing; it really is," said Smith. "I could never replace any of my neighbors."