QBs pose problems for defenses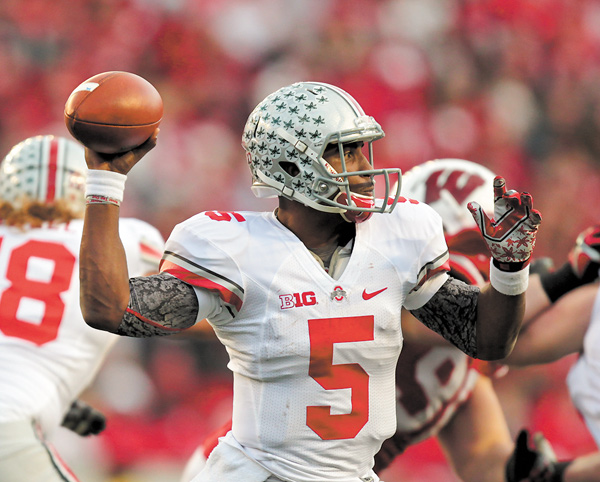 ---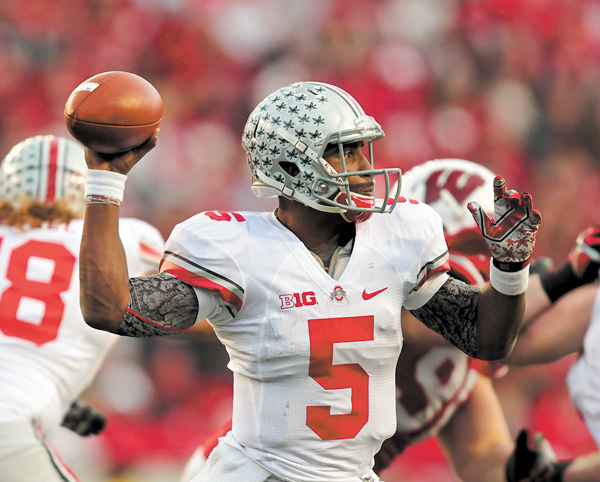 Photo
Ohio State quarterback Braxton Miller throws a pass against Wisconsin during the first half of a game in Madison, Wis.
Associated Press
COLUMBUS
The most potent weapons for No. 20 Michigan and No. 4 Ohio State are undoubtedly their quarterbacks.
Pity their poor defenses in the big showdown on Saturday.
Devin Gardner and Denard Robinson, who may line up everywhere but behind the center due to an arm injury, are the speedsters who lead the Wolverines' attack. Meanwhile the Buckeyes rely on Braxton Miller, who likes to make tacklers grab handfuls of air when he's not completing long passes.
Stopping, or at least slowing down, the trio will be the main objective for both teams.
Good luck with THAT.
Gardner provided six touchdowns, three running and three passing, in Michigan's landslide win over Iowa in The Big House last week. Robinson, with 41 touchdowns and 4,273 rushing yards in his career, dabbled at tailback and wide receiver while picking up 98 yards on 13 carries.
Ohio State is in a quandary, having to figure out just how Michigan offensive coordinator Al Borges will utilize the two. Even he doesn't seem to know.
"You don't know — nobody knows — until the lights go on," Borges said.
So the Buckeyes must prepare for a little bit of everything.
"I just know something's coming," Buckeyes head coach Urban Meyer said of the possible sleight of hand. "You just know something's coming."
Michigan coach Brady Hoke has been tight-lipped about his plans this week. Gardner is the reigning Big Ten player of the week on offense, but Hoke hasn't ruled out Robinson — famous for his lengthy streaks to the goal line as much as for not tying his shoelaces — under center.
The Wolverines refused to even hint at what they might do.
"I never caught a pass in a game before," Robinson said innocently.
During closed practices this week he wore a padded compression sleeve on his right elbow, which suffered nerve damage from a hit earlier this season.
Asked if he can throw, he grinned and said, "You'll see on Saturday."
Despite the respect they have for Gardner, Ohio State's defense knows it can't ignore Robinson.
"I know about Denard here and there just from Big Ten media day, and he is a good guy," said linebacker Etienne Sabino, himself just back from an injury. "But on the field, we aren't friends."
Gardner watched the video from the Iowa game, a 42-17 laugher, and saw the problems the combo created.
"Not just when Denard had the ball — of course he made big plays — but when he didn't have the ball we had our even bigger plays," he said. "Just the attention that he gets is amazing — it just helps us succeed."
Ohio State defensive lineman Garrett Goebel said having two quarterbacks on the field creates double the headaches.