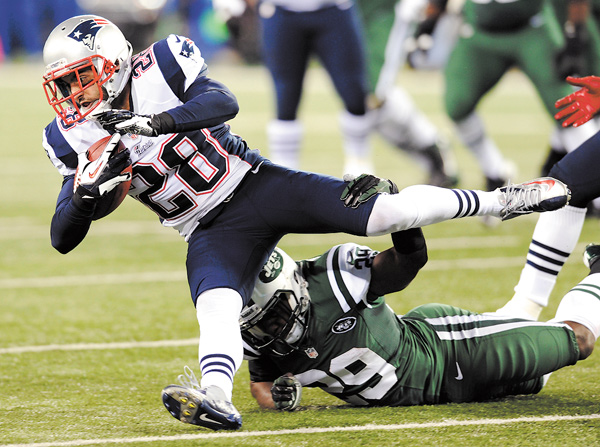 Photo
New England Patriots strong safety Steve Gregory (28) is tackled by New York Jets running back Bilal Powell after intercepting a pass during the first half of a game Thursday in East Rutherford, N.J.
Associated Press
EAST RUTHERFORD, N.J.
Tom Brady threw three touchdown passes and ran for a score as the New England Patriots embarrassed the New York Jets with a 35-point second quarter in a 49-19 victory Thursday night.
After a scoreless opening quarter, the Patriots (8-3) went on a touchdown spree while taking advantage of several mistakes by the hapless Jets (4-7). New England scored four touchdowns in just over 6 minutes — including three in a 52-second span.
Julian Edelman returned a fumble for a touchdown and caught a 56-yard pass for a score before leaving with a head injury.
Shane Vereen caught an 83-yard scoring pass, Steve Gregory had a 32-yard fumble return for a TD, Stevan Ridley had a 9-yard run and Wes Welker had a 3-yard scoring grab that helped make Bill Belichick the eighth NFL coach with 200 career victories, including the playoffs.
New England turned four New York turnovers into touchdowns as they piled up 35 points in the second quarter to break the game open.
Brady opened the scoring with a 3-yard touchdown pass to Wes Welker on the first play of the second quarter, and the Jets made it easy for the Patriots after that.
Shonn Greene's fumble gave the ball back to the Patriots, and Brady needed only one play, an 83-yard pass to Vereen to put New England up 14-0.
Jets quarterback Mark Sanchez fumbled on New York's next possession, and Gregory scooped up the loose ball for a 32-yard return and a 21-0 lead.
And the Jets gave them one more.
Joe McKnight fumbled the ensuing kickoff and Edelman ran it in from 22 yards, New England's third touchdown in a 52-second span.
Brady hit Edelman with 56-yard scoring pass with 3:08 left as the Patriots widened the lead to 35-0, and Jets fans started chanting for Tim Tebow to replace Sanchez.