Holidays bring sweet business to candy makers in Mahoning, Shenango valleys
---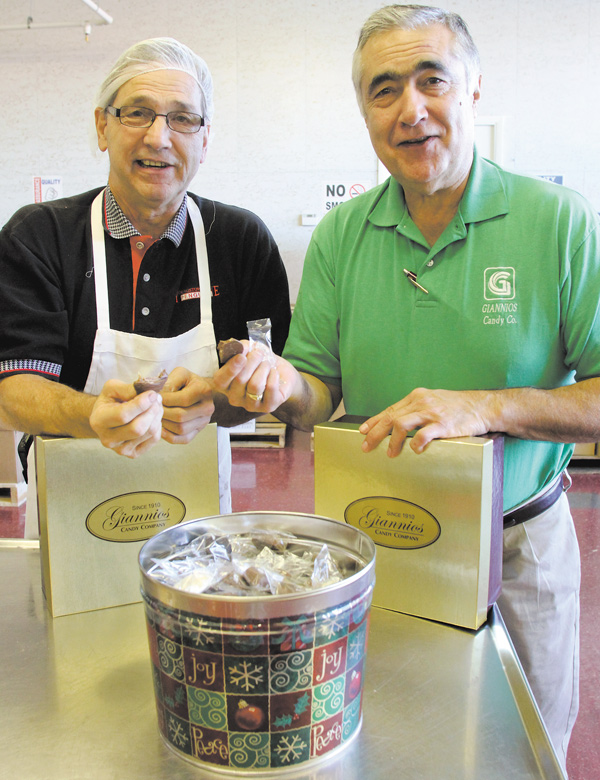 Photo
Brothers and Giannios Candy owners Greg, left, and John Giannios sample some of their candies at their Struthers facility. U.S. candy sales reached $29.4 billion in 2010, according to the National Confectioners Association.
YOUNGSTOWN
Peter Daffin, who founded Daffin's Candies in 1949, used to tell those he worked with that the candy business was recession-proof.
It was an "affordable pleasure," he liked to say.
Daffin's, based in Sharon, Pa., has retail outlets in Niles and Girard. But it's far from alone.
In Youngstown, Gorant Candies, Giannios Candy and PMG Chocolatier all manufacture and sell their treats to patrons and businesses across the country. Within roughly an hour of the city limits, Daffin's is joined by Philadelphia Candies and Sarris Candies in Pennsylvania.
"You know what? It's a friendly business," said Connie Leon, who has served as Daffin's retail manager for 46 years. "Everyone knows each other. Even with all the candy companies in this area, it's friendly competition."
That's because each company serves the broader sweet tooth differently. At Daffin's, they specialize in milk chocolate, caramel corn and peanut brittle.
In Struthers, where Giannios Candy works to produce about 2 million pounds of candy per year in its 30,000 square-foot factory, bulk wrapped chocolates and hard candy are the staples.
"It's friendly across the country. I could meet someone who owns a candy company in Seattle and I'd be in their factory within 10 minutes," said John Giannios, who owns Giannios Candy. "Some of the ingredients we use are so rare that the companies will communicate with each other for glucose or a special peppermint if they're shorthanded."
According to the National Confectioners Association, a trade group that represents 320 companies across the country, candy manufacturers spent $4 billion in 2010 on those rare commodities. That same year, the group estimated that U.S. candy sales reached $29.4 billion.
Daffin's recession-proof adage has, of course, been tested in recent years, and if the local candy companies are any proof, his philosophy holds both merit and wisdom.
As all six companies prepare for one of their busiest times of year, when holidays such as Christmas, Easter and Valentine's Day account for about 25 percent of all confectionery spending nationwide, Giannios Candy, Youngstown's oldest confectioner established in 1910, just landed a big deal with the Home Shopping Network.
"[HSN] is able to sell between $30,000 and $40,000 worth of product in 12 minutes," Giannios said. "It's big, and sales keep ticking 24/7, even when we're sleeping."
So what does HSN want with a small-town candy company with only two retail outlets and a factory that currently employs about 38 people?
"They needed somebody who could wrap chocolate for holiday tins," Giannios said. "Other candy companies, our friends around here, pointed them in our direction because it's what we've done for 45 years now."
For company's such as Daffin's and Giannios, HSN sees chocolate that isn't mass-produced. Smaller confectioners don't compete with the likes of Hershey and Nestle, which ship candy all over the world.
Much of their products are still handmade. Creams and caramels are still cooked in cooper pots, and skilled workers hand-dip products such as peanut clusters they've molded by hand. Leon called it a "dying art" that smaller companies have combined with high-tech automated lines that spit out candy bars and wrap them just as fast.
Giannios chocolates first appeared on HSN on Tuesday, and the company already is looking past the holidays to February when it also will be on the air. Giannios said he could bring on up to 15 more employees to fill orders.
Both Leon and Giannios said candy proliferates in Northeast Ohio and Western Pennsylvania because of the Greek families who traveled here in the late 19th and early 20th centuries.
The tradition is likely to continue, at least at Giannios.
"I have three sons, two daughters, a niece and a nephew all involved with the business," Giannios said. "My cousin is the plant manager, and my two brothers and I run the business. It can be tough sometimes, but it's worthwhile."