Fairy tales come true at library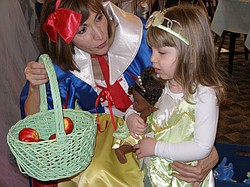 Photo
Neighbors | Submitted.Snow White (Josephine Nolfi, manager of children's services for the library) helps Lauran Klanica choose an apple for a prize.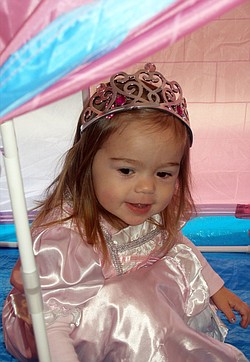 Photo
Inside the princess castle is little princess Kate Anderson. Children came dressed in costume and enjoyed the Disney Prince and Princess Party fundraiser held at Austintown library.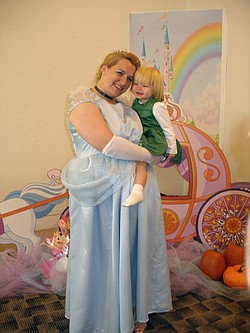 Photo
Cinderella (Amy Shotts) and Addison Shotts stand next to Cinderella's carriage. The little princes and princesses in attendance could have their photo taken with costumed characters and inside the carriage window.
By EARTHA TERRELL
The Austintown library looked more like a Walt Disney motion picture during the facility's annual prince and princess party Nov. 10. In conjunction with Disney, the library provided participants with free tickets to the show Disney on Ice: Treasure Trove at the Covelli Centre and a bag full of memorabilia.
"Everything we do in the library is focused around reading and the Disney books are very popular, so when children can come in dressed up it brings it to life and makes them even more excited to read. We want it to be fun and it's so gratifying they're having so much fun," said library official Janet Loew.
The meeting room provided children with a variety of fairy tale-inspired stations, including a glittery throne and even a horse and carriage. Children paced the room eager to take pictures while they reenacted their favorite Disney scene. Parents also enjoyed themselves and were pleased the library offered such an event.
"[My daughter] Laura loves all of the Disney princesses and as soon as she found out about it, we were here and we've been very excited about it. I think it's important for them to know that there are programs here and available for them and it's a nice way for the community to meet one another and great for the kids to get together," said Fran Klanica, of Boardman.