Duo is having a ball — and winning awards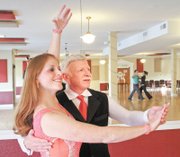 ---

Photo
Angela Gorby and her father, Bob Koehler, dance at the Fred Astaire Dance Studio in Boardman. The daughter-dad dance duo competed in the Fred Astaire World Championships in San Juan, Puerto Rico, this summer and waltzed their way to a first place for a Viennese waltz. Photo by: William D. Lewis | The Vindicator.
Father Daughter Dancers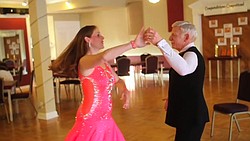 Video
Angela Gorby and her father Bob Koehler dance together.
By LINDA M. LINONIS
BOARDMAN
Many a little girl remembers first dancing with her father by standing on his shoes.
For Angela Gorby, dancing with her dad, Bob Koehler, has stepped to a whole new level.
The daughter-dad dance duo competed in the Fred Astaire World Championships in San Juan, Puerto Rico, this summer and waltzed their way to a first place for a Viennese waltz. They also received other awards.
Koehler and Gorby began dancing competitively only three years ago. "I got a gift certificate for dance lessons for Christmas," Koehler said. His wife, Cathi, sidelined with a knee problem, bowed to her daughters to take on the dancing duty. Gorby said her sister, Pamela Sabitini, was "really more of a dancer," but the structure didn't appeal to her.
Koehler and Gorby said they dance for "recreation and exercise." The father-daughter dancer combination is rare in competition, and in most events, they're the only such pairing.
"The competition in San Juan was a wonderful experience," Gorby said. "It's such a great outlet and fun thing to do."
She added that being dance partners has brought her closer to her dad.
Koehler said dancing with his daughter is a "special time." That feeling is reinforced by the many comments he hears about their relationship and their dancing skill.
Koehler goes back a way when he admits he and his wife went "disco dancing." "We just liked to dance," he said.
Gorby has grown up dancing — tap, ballet, jazz, modern – you name it, she danced it. "It's addictive," she said.
Both dad and daughter found out ballroom dancing takes participants to an elevated plane as far as technique, presentation, demeanor and dress. Koehler said he and his daughter thought they would just take lessons at Fred Astaire Dance Studio, 5090 Market St.
"We came for lessons and group classes," Koehler said. And they participated in Friday night practice parties.
"We thought we would dance for fun," Koehler said. Instructors suggested they compete. "I thought, I'd like to do that. And I want to get better." Koehler also dances with professional partner, Kristen Dobson, and Gorby with Matt Moore, who are instructors at Fred Astaire.
Goerby agreed. "Dancing competitively pushes you to get better, work on your technique and try new dances and steps."
They said there is a syllabus of steps in competition that dancers must execute. Competition becomes keener at each level; they plan to continue competing.
Both agreed dancing has myriad physical and emotional benefits.
"For me, it's an outlet," Gorby said, adding she also sees it as a teaching tool for her children, Julia, 9, and Brennan, 6. Gorby said she believes her dancing is teaching her children about commitment and doing one's best.
Gorby said it also shows her children that she's not only Mom, a wife and working woman but her own person with goals. "It's made me stronger ... physically ... and helped me be more confident," Gorby said.
Her father, whose job has him traveling frequently, said, "It helps me forget about work ... it's a way to get away." He also noted he had back surgery and he finds dancing helps him "feel better" and is a "stress reliever."
The dancers said they "were blessed" to be able to dance, share it with one another and their family.
Father and daughter agreed that support from their spouses is invaluable. "It's made our family closer," said Koehler, who also dances with his granddaughter.
Gorby has various outfits she wears in competition including her coral ballroom gown, a short teal dress with rhinestones and blue and black lace outfit worn with fishnet stockings. She said different kinds of shoes also go with the outfits, and aren't just for looks. "Different shoes complement the technique," she said.
Koehler's clothing and shoes also takes its cue from the dance style — being more formal or casual.
Koehler and Gorby said they're "making memories" that will last after their dancing days are done.