McDonald teen clips and saves to fill bags of supplies for the needy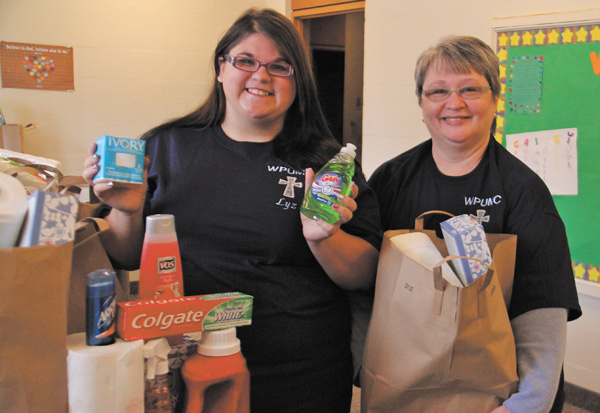 Photo
Elizabeth Ruminski, 16, left, and Pastor Carla Davies hold items from the Non-Food Pantry at the Woodland Park United Methodist Church in McDonald.
By LINDA M. LINONIS
McDonald
Elizabeth Ruminski could be a candidate for the TLC reality show, "Extreme Couponing," on how regular people save money and buy a lot of food and other products by using manufacturers' discount coupons.
But the 16-year-old, a member of Woodland Park United Methodist Church, 601 Ohio Ave., and its Dream Team, is using her couponing skills to benefit a charitable cause. She coupons to buy paper, cleaning and personal-hygiene products for a nonfood pantry at her church.
"I extreme coupon but don't buy extreme amounts," she said.
What she does buy is at incredible discounts, or she gets goods for free.
Pastor Carla Davies of the church said the Dream Team was formed this year to spearhead such projects.
"We knew there was a need for items that food stamps don't buy," she said. The church saw helping people in need get those products as a viable mission.
The first distribution took place Oct. 20 in conjunction with a food pantry at Open Door Community Church nearby. "We posted fliers so people know they can come to our church for the nonfood items," Elizabeth said.
The Dream Team prepared 50 bags of the non-food items that included paper towels, toilet paper, laundry soap, dish soap, bar soap, toothpaste, deodorant, multipurpose cleaning products, tissue and shampoo. Pastor Davies said 47 of the 50 bags were taken; phone calls have claimed the others. "It was quite a blessing to be a blessing to others," she said.
The church plans distributions every other month; the next will be from 9:30 to 11 a.m. Dec. 15.
Elizabeth said a trip to Florida with a friend was the beginning of her couponing odyssey. "My friend's mom showed me how it was done," she said, and the challenge drew her to couponing.
That learning session proved to be helpful to her parents, Bill and Terri Ruminski. Elizabeth said her mother lost her job, which meant a loss in income. "I wanted to help out by couponing," she said. "There was a need."
Before long, Elizabeth got her mother involved in couponing. She explained the family uses a three-ring binder with plastic sleeves to organize coupons. She and her mom cut coupons on Sundays after buying multiple newspapers and checking the ads, then placing the coupons in the binder in appropriate categories. They toss any expired coupons.
"I also taught a couponing class for church and the Dream Team," Elizabeth said. Now, others can coupon and help the non-food pantry effort and their families.
Elizabeth has her own set of rules for couponing. First, organization is key. "You have to study the ads," she said, noting the shopping trip is to multiple stores. "When I go to check out, I ask the cashiers if they're comfortable handling multiple coupons."
And, "I don't pay for toothpaste," she said. For example, Elizabeth said she checks for "two for $3" specials, then uses two 75-cent coupons, which will be doubled. "It's free."
The sophomore at McDonald High School also "won't pay over 25 cents for shampoo" when she uses coupons. In one shopping excursion, she got 20 rolls of paper towels free by using coupons. Couponing takes "patience and time," she said.
Elizabeth said she averages savings of $50 to $60 with coupons for her family's budget. Because of her family's job-loss experience, Elizabeth said, "I know how it feels."
That and the Christian directive to help those in need motivate her, she said.