YSU grad student, other volunteers help Neighborhood Ministries serve kids
By LINDA M. LINONIS
Thankful Volunteer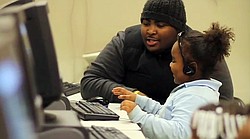 Video
Brian Glenn is thankful to volunteer at Neighborhood Ministries in Youngstown.
Youngstown
BRIAN GLENN GIVES OF HIMSELF AS a volunteer in the after-school program at Rockford Village Community Center. But he'll tell you that what he gets from the children surpasses what he gives. And he's thankful for the rewarding experience.
Glenn, who earned a bachelor's degree in psychology at Youngstown State University, is working on a master's in intervention services and school psychology at YSU. His goal is to be a licensed school psychologist.
A resident of the South Side and graduate of Wilson High School, Glenn was an intern from June through August at Rockford, which is operated by Neighborhood Ministries on the East Side. He found the program so valuable that he returned as a volunteer.
"Brian is a positive force in their lives," said Kim Fowler, program director at Rockford center. "He's a black male who is role model. Many kids don't have a father figure."
Fowler said Glenn just being himself influences the children. "It's a big thing ... they see what he's doing with his life. He's in school."
Glenn appreciates his position as a role model and uses it in teaching moments. He has conversations with the kids about working toward a goal without being involved in crime or drugs. "I want them to see there's a different way," he said. "You can have a really nice life without being involved in crime."
Glenn said he was "very thankful" for the opportunity to work with children. And though their circumstances may not be ideal, Glenn said he is continually impressed with their "sense of optimism."
The after-school program at Rockford is a flurry of activities, and some 40 children participate weekly. Glenn is involved in helping children with their homework, and sometimes he's doing his own. Glenn said that example also benefits children. "It's practicing what you preach."
There's also Bible study, devotional time, games, crafts, field trips, meals and Kids College, a computer-based math and reading program. The volunteer said the center offers a fun and safe place where children can "expand their horizons."
Glenn said he hopes he is "making a difference" in their lives and noted they have positively affected his. In a Neighborhood Ministries newsletter, he wrote the experience has helped him learn more about himself and the memories he has made with the children will last his lifetime. "They changed my life, and they changed my life for the better. So the least I could do is return the favor," he wrote.
Glenn said he feels he connects with the children because they share some of the same experiences and he has empathy with them.
Mark Samuel, Neighborhood Ministries executive director, said the centers depend on 150 or so volunteers from churches, the community and YSU.
"Volunteers make this work," he said, adding that volunteers put a variety of skills and talents to work to help the centers operate.
The all-volunteer West Side Community Center provides an example of what volunteers accomplish, he said.
"Volunteers want to give back to the community. They know it feels good to help others," Samuel said.
Fowler said she's grateful for what volunteers contribute. "We know it's God at work," she said.