YSU falls again at Duquesne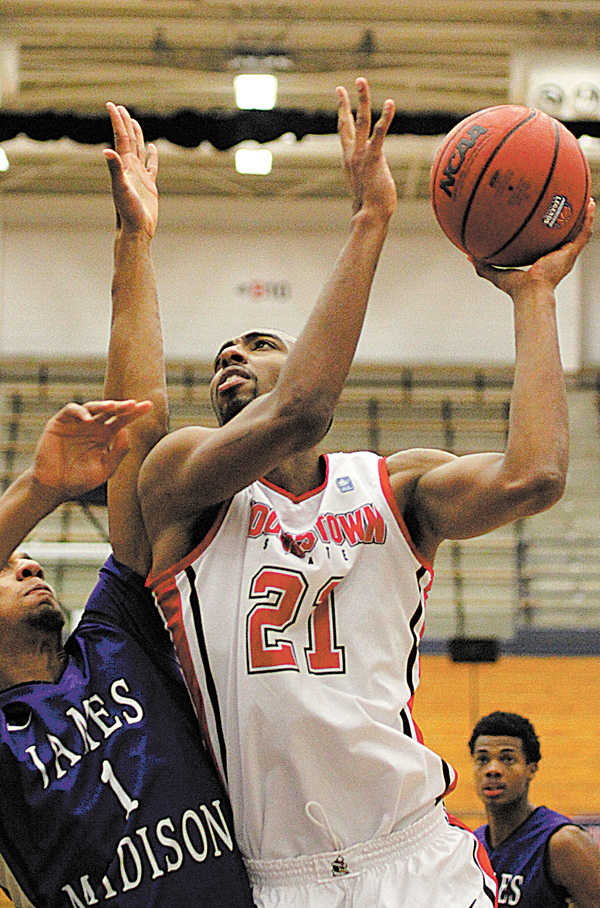 ---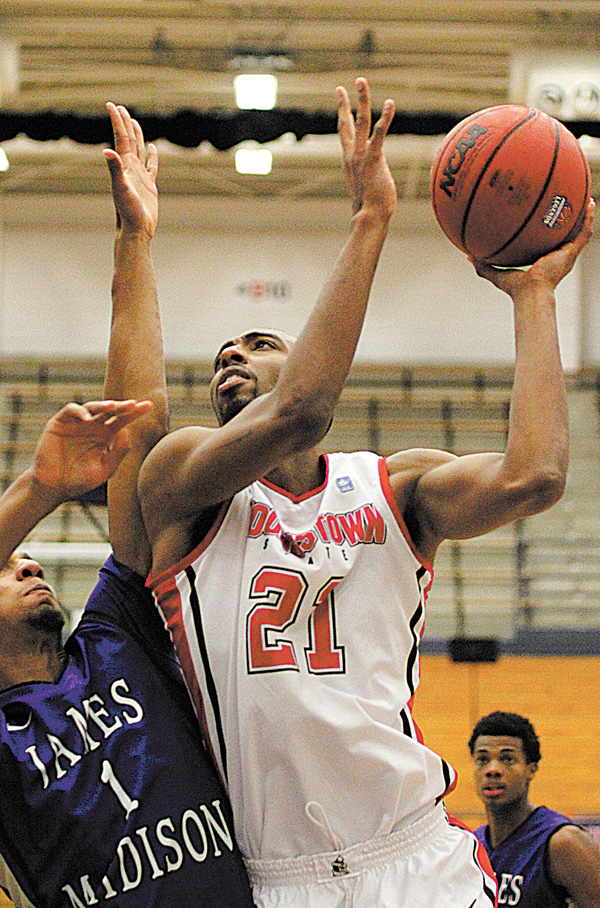 Photo
Youngstown State's Damian Eargle (21) puts in a layup to reach 1,000 points for his career with the Penguins as James Madison's Enoch Hood (1) defends during the second half of Tuesday's game at Duquesne University's Palumbo Center. Eargle finished the game with 17 points, six rebounds and six blocked shots in YSU's 69-68 loss.
By Joe Catullo Jr.
PITTSBURGH
Down by one point with eight seconds remaining, Kendrick Perry took the ball up court, hoping to do one better than his game-tying 3-pointer Monday night.
Instead, James Madison double-teamed Perry and forced an air ball, sealing a 69-68 victory Tuesday in the Progressive Legends Classic at Duquesne University.
"I thought we played a great basketball game except the last minute of the game," Penguins coach Jerry Slocum said.
The Penguins (3-2) had a six-point lead over the Dukes (1-2) when the final minute began to trickle down. Leading by one with 20 seconds remaining, YSU inbounded the ball to Damian Eargle at half court and he saw daylight with a one-on-one contest.
With his jersey slightly held, Eargle missed the layup. Shawn Amiker rebounded the ball, but missed the put-back opportunity. Eargle said he should have pulled out and drawn the foul.
"I thought it was there, but obviously it wasn't," Eargle said. "I wish I could take it back, but I can't. Me being a senior, I should have known."
Shortly after, Eargle fouled Charles Cooke and he made both free throws. The Penguins had a timeout remaining but decided to run with Perry instead. Out of the 40 minutes played, the Dukes held a lead for 45 seconds.
"Obviously, we made terrible decisions," Slocum said. "When you play like that at the end against a good basketball team, you'll end up paying the price for it."
One bright spot for Eargle was scoring his 1,000th collegiate point with 15:15 remaining in the second half. He was unaware of the accomplishment until YSU assistant sports information director Jamie Hall told him.
"Oh I did? Oh, that's crazy," Eargle said. "I wish I could have gotten it in a win."
Eargle finished with 17 points, six rebounds and six blocks. YSU's other four starters all reached double figures, but the bench contributed just three points.
Rayshawn Goins led the Dukes with 21 points and seven rebounds. Eargle was given the assignment of guarding Goins.
"I've been guarding him for like six years, and he's still tough," Eargle said.
Tuesday was the second day of the Progressive Legends Classic at Duquesne University. YSU fell 83-80 against the Bison on Monday, while James Madison fell to Duquesne, 90-88. Both games went into overtime.
After the defeat on Monday, Slocum said he was worried about his team's endurance. Eargle said there were no worries before Tuesday's game started.
"We run basically every day in practice, so I knew that wouldn't be an issue," he said. "It was going to be a dog fight because we didn't know each other's plays, so we're just out there playing."
The Penguins conclude their three games in three days road trip against another set of Dukes. YSU will try to avoid being the lone team swept in the Classic.
"It just wasn't our day," Eargle said. "There's nothing you can do about it now. It's just we have three games in a row, and we have to prepare for (the last one)."