Mangapora signs with Ball State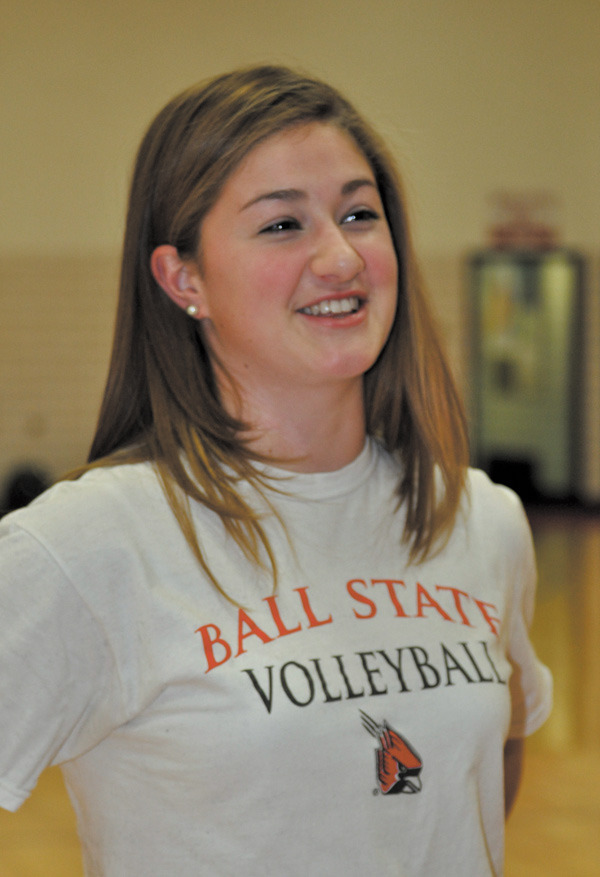 ---

Photo
Canfield senior Sabrina Mangapora talks with reporters after signing a letter-of-intent with Ball State University.
By Brandon Judeh
CANFIELD
Students, faculty and family piled into the Canfield High gymnasium at high noon as they awaited "The Decision."
No, not that "Decision," but Canfield's dual-sports star Sabrina Mangapora's college decision.
After a brief introduction, Mangapora announced that she would remain a Cardinal by attending Ball State University where she will continue her volleyball career.
"I felt connected to Ball State, they are a mid-major school so it has a home feel to it," said Mangapora. "They have a competitive volleyball program that competes with the best of them, so for me it's the best of both worlds."
Mangapora, who is planning on majoring in chemistry and focusing on medicine, says she was most impressed with how Ball State coach Steve Shondell has turned the Lady Cardinals into a contender.
"He's a really good coach that comes from a tradition of excellence. He has turned the program around completely and had them ranked 35th in the country, which is incredible," added Mangapora.
She also mentioned that she chose volleyball over basketball because she loves playing volleyball.
Before Mangapora signed her letter of intent, her basketball coach, Pat Pavlansky, said a few words.
Pavlansky talked about a time when he sat down with Mangapora and told her he didn't care which sport she chose to play in college.
"I told her I don't care if she plays basketball, volleyball or whatever, just get a scholarship and get your education paid for, that is what's most important," said Pavlansky.
Canfield head volleyball coach, John Tokash, says that he is happy to see Mangapora select volleyball.
"Being a volleyball coach I'm sort of prejudiced, so I'm happy she picked what she did, but the main point in going to college is to get a degree and then you go out in life and live it like you should," said Tokash.
Throughout her high school career, Mangapora has been making headlines. Whether it was being named Student-Athlete of the Week, winning Player of the Year in both volleyball and basketball or owning school records in kills for a season and a career Mangapora has enjoyed much success.
Perhaps giving Mangapora something to look forward to is the fact that she will be playing in the Mid-American Conference, which will see her playing games at Kent State and Akron. That should give her family and friends plenty of opportunities to see her play at the collegiate level.
Before Mangapora heads to Indiana she still has some unfinished business to take care of in Canfield.
The task at hand is leading the basketball Lady Cardinals to another district title and helping Canfield win the All-American Conference championship.
"Everyone is excited about this season, we can't wait to play our first game on Saturday," Mangapora said.
Not only will the Cardinals be playing Marlington on Saturday, but Mangapora will be gunning for her 1,000th career point, as she is only 11 points away from the milestone.
"I'm very excited, I think it would be a great way to kick off the season. The past month has been crazy, but I'm so blessed and thankful for all the opportunities that have been given to me."