YSU men suffer first loss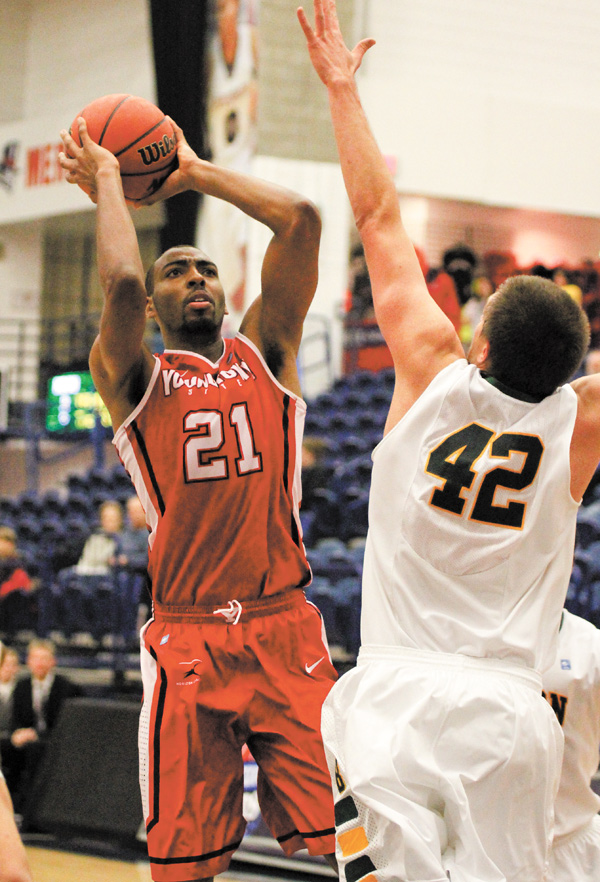 ---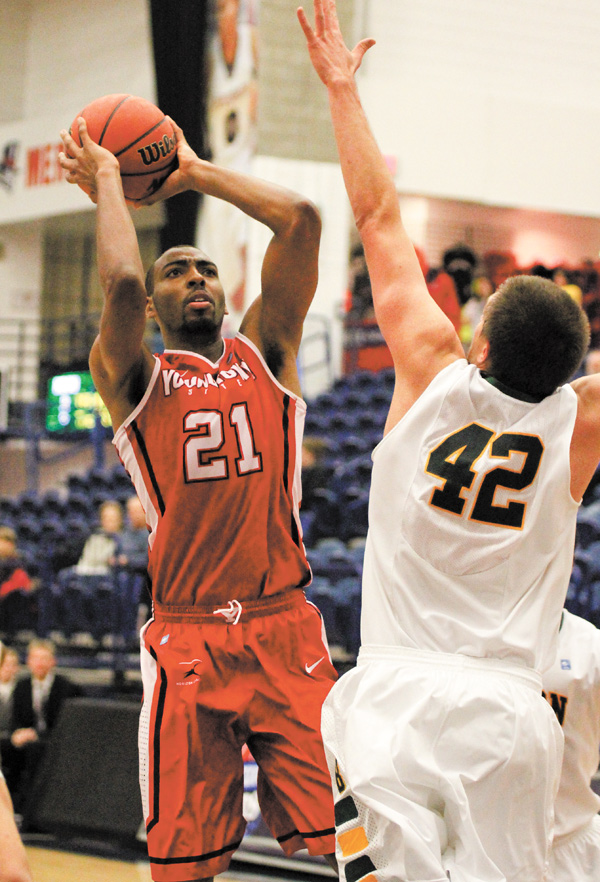 Photo
Youngstown State's Damian Eargle (21) shoots over North Dakota State's Marshall Bjorklund (42) during the second half of Monday's game at Duquesne University's Palumbo Center in Pittsburgh. Eargle finished with eight points and six rebounds in Youngstown State's 83-80 overtime loss against the Bison.
By Joe Catullo Jr.
PITTSBURGH
With less than 10 seconds remaining in Monday's game against North Dakota State, Youngstown State guard Kendrick Perry gave the Penguins a reason to believe.
After Brett Vandenbergh missed two free throws, Perry got the ball and raced down court. He planted his feet, jumped over a defender and drilled a 3-pointer with three seconds left, sending the game into overtime. Keeping momentum, Perry scored a jumper and Damian Eargle slammed one home, and it looked as if the Penguins would steal a victory.
However, they could not keep the momentum on their side, dropping an 83-80 decision to the Bison at Duquesne. It was the first of three games in three days in the Progressive Legends Classic. Similar to the YSU football team, the men's team saw its perfect season end against North Dakota State.
"We showed great heart and character," said YSU coach Jerry Slocum. "Our basketball IQ in the overtime period wasn't very good."
Perry, the reigning Horizon League Player of the Week, led all scorers with a career-high 34 points and added eight rebounds. He scored eight in the first half, 22 in the second and 12 in overtime. From the 3:20 mark of the second half to the end of the game, he scored 22 of the team's final 26 points.
"He played extremely well," Slocum said. "He was one of the few guys that played really well tonight."
Perry, though, said it was not his best performance at YSU.
"No, because we didn't win," Perry said. "I guess I did all right. Probably could've done more on the defensive end. It's always hard to talk about you after a loss."
Kamren Belin, a junior transfer, contributed 15 points (13 in the second half) and 11 rebounds. Perry said for Belin, it's no longer about him wondering where and when he's going to shoot and play.
"It's just a matter of capitalizing, being aggressive and just doing what he does for us," Perry said. "He's been getting better every day."
For NDSU, Mike Felt finished with a team-high 24 points and six rebounds. Lawrence Alexander (17), Taylor Braun (12) and Marshall Bjoklund (11) also reached double figures.
The Penguins (3-1) and Bison (3-1) collected 47 rebounds apiece, but NDSU grabbed five more offensive boards.
"They were physical defensively," Perry said. "They crash the boards hard, and I think that's what kind of took them over the top. They got offensive rebounds and second-chance shots. They made some big plays when they needed them."
Slocum said he knew going into the game that the Bison were tough.
"I thought we gave it away," he said. "Give them credit, they made some shots, but I thought we had the game. We got out of control in overtime and let it go."
The Penguins are one of four teams in the tournament as each team plays one another in three consecutive days. YSU faces James Madison today and Duquesne on Wednesday.
"I'm very concerned about our endurance at this stage playing in overtime and coming back tomorrow," Slocum said.