Kaepernick sizzles as Bears flop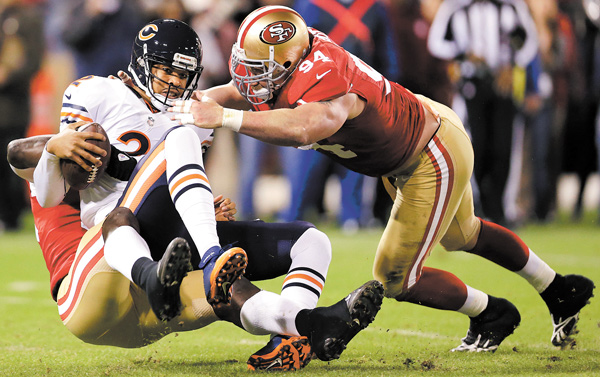 ---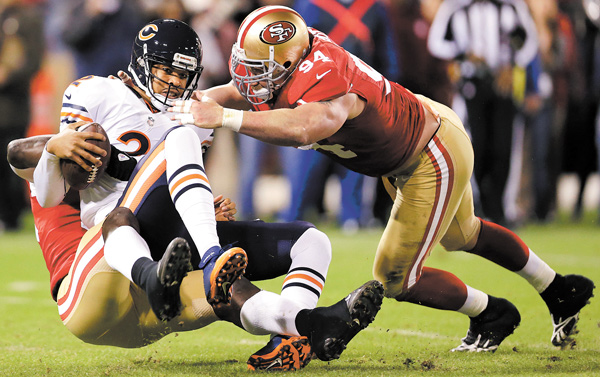 Photo
Chicago Bears quarterback Jason Campbell (2) is sacked by San Francisco 49ers linebacker Aldon Smith, left, as defensive tackle Justin Smith (94) converges during the first quarter of an NFL game in San Francisco on Monday. The 49ers won 32-7.
Associated Press
SAN FRANCISCO
Colin Kaepernick passed for 243 yards and two touchdowns in his first career start in place of the injured Alex Smith, and the San Francisco 49ers whipped the Chicago Bears 32-7 on Monday night in a highly touted NFC showdown that hardly lived up to the hype.
Kaepernick threw touchdown passes to Vernon Davis and Michael Crabtree, and Kendall Hunter ran for a 14-yard TD as San Francisco (7-2-1) jumped out to a big lead by scoring on each of its first four possessions — with Aldon Smith wreaking havoc on the other side of the ball with five sacks.
Jason Campbell, the other quarterback in this matchup of backups for two division leaders, threw a 13-yard touchdown pass to Brandon Marshall in the third quarter but was sacked five times and threw two interceptions in his first start since October 2011 for Oakland.
In the first three quarters, Kaepernick completed 15 of 20 passes for 232 yards and looked calm and in control in his first NFL start. With Smith out with a concussion, Kaepernick engineered four straight scoring drives to pace San Francisco's sizzling start.
Campbell completed 9 of 16 passes for 76 yards, including a touchdown to Brandon Marshall after San Francisco sprinted to a 27-0 lead.
Campbell, who missed the final 10 games with the Oakland Raiders last season with a broken collarbone, also threw two interceptions while working under constant pressure. Aldon Smith sacked him four times alone as Chicago struggled to get any offensive momentum until Marshall's 13-yard TD catch late in the third quarter.
Smith's sacks gave him 131/2 on the season, passing Denver's Von Miller (13) for the NFL lead. Hunter had three carries for 28 yards behind Frank Gore (14 carries for 64 yards) and Kaepernick kept the 49ers in rhythm.