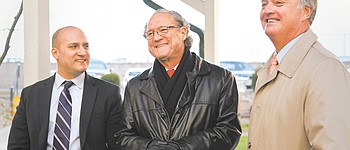 Hagan, Gerberry draft bill to cut Y'town judgeship
Published: 11/20/12 @ 12:07
YOUNGSTOWN
A bill to abolish the third Youngstown municipal judge seat will be introduced today, and state lawmakers expect it to be approved before the December recess.
State Rep. Robert Hagan of Youngstown, D-60th, announced Monday during a news conference outside Youngstown City Hall that he and state Rep. Ronald V. Gerberry of Austintown, D-59th, were co-sponsoring the bill. They were joined by state Sen. Joe Schiavoni of Boardman, D-33rd.
Hagan said the bill is a "responsible" action based on studies, a population decline from about 150,000 to 66,000, and cost savings for the city that could range between $100,000 and $150,000.
A vacancy in municipal court was created when Judge Robert A. Douglas Jr. retired July 31 — 17 months before his term was to expire. The judge position has been in limbo, waiting until Gov. John Kasich appoints a replacement or the Ohio Legislature abolishes the seat.
The possibility of eliminating the seat sparked fierce opposition from some city leaders. Last month, city council voted 4-3 to ask the state Legislature to maintain three municipal court judicial seats.
City Clerk of Courts Sarah Brown-Clark has said specialty courts for veterans, driver's license suspensions and housing would be at risk without three judges. She also advocated for more consolidation studies.
"I'm not opposed to the court consolidation study and not opposed to examining that study and looking at ways to implement it. I am opposed to hasty action — and this is hasty action. Most courts in Ohio have had decreased caseloads. However, this community on the edge of the whole shale industry is likely to grow as opposed to continue shrinking," Brown-Clark said.
She criticized the state officials for not listening to city council and not following through the process to outline a countywide court consolidation plan. She also took issue with Gerberry's co-sponsoring the legislation.
"Austintown is his constituency, and until he engages with Austintown court consolidation, he's out of order," Brown-Clark said. "... I would bet you money that once they eliminate this third judgeship, they will not move further on court consolidation."
Schiavoni said he initially was hesitant about the plan, but said the studies have shown the consolidation is needed. Last week, the Mahoning County Bar Association announced it believed the court can operate efficiently with two full-time judges.
"You make a decision based on facts," he said.
Although he said every effort must be made to keep the specialty courts intact, he added that they are voluntary.
City Council President Jamael Tito Brown has said he is not opposed to a reduction but is opposed "to a scattershot approach to doing so."
"If we can't afford three judges, that's fine. But I don't want it done sporadically. Don't just start with Youngstown. I want to include [the entire county] in the court consolidation, and the legislation should reflect that," he said.
The council president votes only in cases of a tie, which was not the case in council's 4-3 vote.
Hagan and Gerberry said Monday that waiting for a countywide consolidation plan would take too long.
"The governor will soon be in a place where he will have to make an appointment," Gerberry said.
Hagan said that if an individual were appointed, changes will be harder to make.
Last year, the independent nonprofit National Center for State Courts recommended that Mahoning County's municipal and county courts should be reduced from seven locations to four and transformed into a countywide municipal court over a six-year period.
Hagan said the bill includes no changes other than eliminating one judgeship and said those who oppose the bill have "every right to testify in committee."
Since Judge Douglas' retirement, county court Judges David D'Apolito and Diane Vettori sat as part-time visiting judges until Oct. 31. The Ohio Supreme Court approved the continuation of Judge Vettori as a visiting judge through Jan. 31.
Don't Miss a Story
Sign up for our newsletter to receive daily news directly in your inbox.