---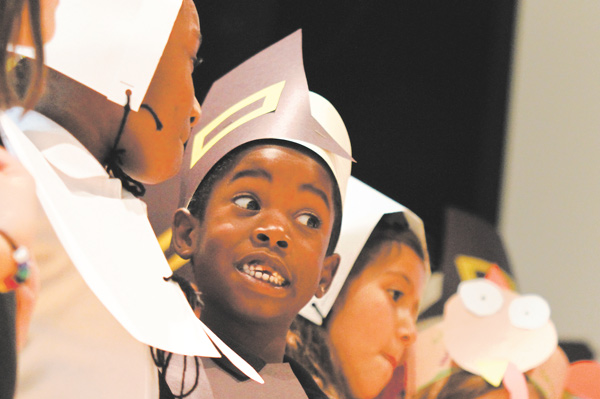 Photo
Nascere Smith, 7, helps entertain parents before a Thanksgiving feast at Campbell Elementary School. Second-graders and their parents enjoyed turkey and all the trimmings Monday afternoon.
By Jeanne Starmack
Campbell
Who doesn't like Thanksgiving? Turkeys. From their point of view, it isn't such a good deal: "I don't like Thanksgiving, the saddest time of year. When the leaves start falling, just get me out of here."
Campbell Elementary School second-graders sang "The Gobble Song" before sitting down in the school cafeteria Monday afternoon to eat a Thanksgiving-style feast with their parents.
Filled with woeful poultry angst, the tune reveals that there isn't much to be thankful about when your dinner companions are going to be the corn, stuffing and sweet potatoes next to you on a plate.
But the second-graders, while they seemed sympathetic to their about-to-be-unfeathered friends, did have much to be thankful about.
As they chirped through another song, "I Count My Blessings," at the sixth annual feast, those blessings were projected onto a large screen behind them on the stage.
What are this year's harvest of second-graders thankful for?
"Family." "Pets." "My mom." "Turkey and cake." "My home." "Ice cream." "It's a free country." "My school." "Having a roof over my head." "For being born." "My teacher." "Everything."
It went on to be quite a long list of blessings for the 90 classmates — almost as long as the array of food their parents had provided: salads, side dishes, corn, potatoes, rolls, biscuits, grape leaves, green beans and broccoli.
Without a need for introduction, the star of the Thanksgiving show was there — turkey and gravy by the panful, which made Maria Kindinis, 8, and her twin brother, Anthony, very happy.
Turkey just happens to be their favorite part of the Thanksgiving meal.
The feast was the culmination of months of work on poems and songs, said Eleni Grillis, 7, who waited patiently in the long line to the buffet.
"This is cute," said her mother, Dimitra Grillis. "It's great, and kids get to eat a Thanksgiving feast."
Twenty relatives will gather at her house for dinner this year, she said.
Eleni wasn't worried she'll be shut out at the table by all those hungry cousins, though. Her mom promised there'd be plenty of food for everyone.
That's more bad news for the turkeys.