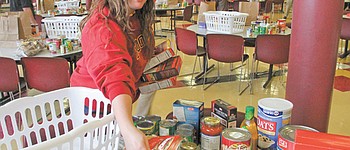 Baskets of blessings
Mooney students get a taste for compassion through Thanksgiving food drive
Published: 11/20/12 @ 12:10
YOUNGSTOWN
Youngstown Cardinal Mooney High School students took the biblical verse to heart, and 20 area needy families today will receive all the fixings for a traditional Thanksgiving feast.
The double blessing is accomplished through the annual schoolwide Thanksgiving food drive.
Students, many of them members of the Christian Service Class and/or the school's Christian Service Club, packed the baskets after school Monday, and juniors and seniors will deliver the baskets to Catholic Charities today for distribution to families.
Students donated nonperishable goods. Perishable items such as turkeys, milk, bread, pumpkin pie, potatoes, fruits and vegetables were purchased with monetary donations collected during second period, said Mary Lou Rogers, religion teacher and head of the Service Club at Cardinal Mooney.
"I really like the good feeling I get inside, helping to give families a good Thanksgiving," said junior Dominique Cicchi of Canfield.
"I know I am blessed to have a family at Thanksgiving and to be able help others have the same opportunity," said Cory Stefanec of Youngstown.
Stefanec encouraged other people to give a helping hand. "In the end, it will make you a better person. No matter how big or small it seems, it is all important. The food drive trains you to be aware there are opportunities to help others when it is needed," he said.
"I hope the experience of giving will carry over into the future," said Monica Mattiussi, a junior from Austintown who said she is grateful for the opportunity to help others and make a holiday meal possible for them.
The Thanksgiving food drive, Nov. 5-19, was divided by class, said Rogers.
Freshmen provided canned fruits and juices; sophomores, canned vegetables and soup; juniors, cereal, cake mix, gelatin and pudding; and seniors, boxed stuffing, pasta and sauces, and salad dressing. Also collected were paper towels, napkins, plates, sugar, coffee, tea, hot-chocolate mix, tuna fish, peanut butter and powdered milk.
Susan Trewella, school campus minister and teacher of the Christian Service Class, helped with the food drive and will head the school's Christmas project of getting three presents each for 87 children whose names are provided by Catholic Charities and also something for the family.
Don't Miss a Story
Sign up for our newsletter to receive daily news directly in your inbox.