YSU women pull away in second half to win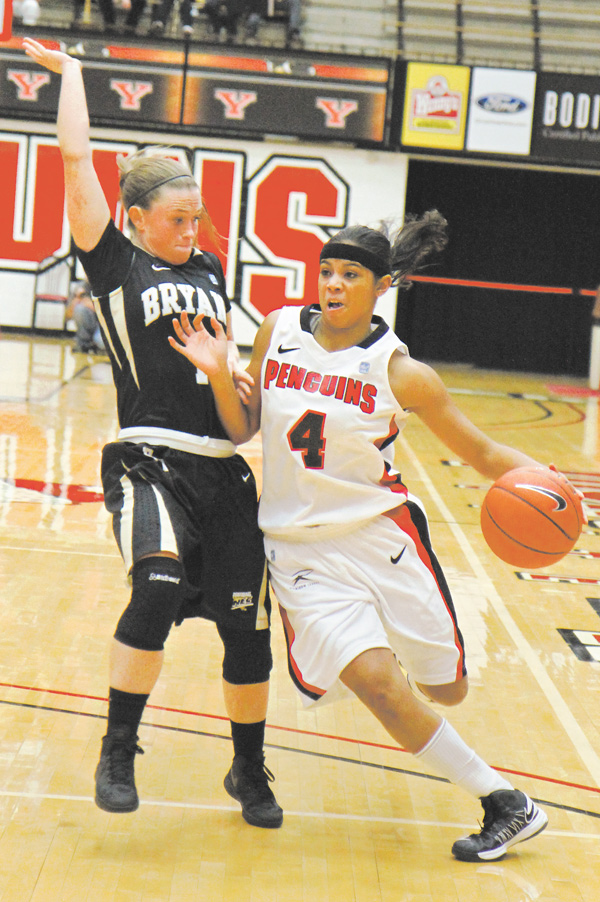 Photo
Youngstown State freshman guard Shar'Rae Davis (4) drives around Bryant's Katie Whittington (11) during the first half of a game Sunday at Beeghly Center. Davis scored 23 points and had five steals and four assists in the Penguins' 75-59 victory. The YSU women's basketball team is off to a 3-0 start.
By Joe Catullo Jr.
YOUNGSTOWN
With two minutes remaining in the first half, Youngstown State coach Bob Boldon called a 20-second timeout and delivered a message.
He called his team "soft" and said the Penguins had to play better if they wanted to beat Bryant.
"I think it really frustrates him and angers him to see us not working hard," said forward Brandi Brown. "I think he just reminded us that we can be a really good team that if we play the way we're supposed to that we'll win."
The Penguins translated Boldon's speech into 48 second-half points and 20 offensive rebounds en route to a 75-59 victory.
Brown led the charge, collecting 26 points (20 in the second half), 19 rebounds (10 offensive) in 39 minutes, all game highs. Despite resting for one minute, she said she had energy left.
"She's got to play as much as she's capable of playing," Boldon said. "There's a lot of things we do that go through her. I would love to play her 40 (minutes), but we're obviously significantly better when she's on the floor."
Playing in her third collegiate game, freshman Shar'Rae Davis contributed with 23 points, four assists and five steals. Boldon said Davis is learning the game quickly.
"She's done a great job of adapting to the game and learning the game," Boldon said. "Shar'Rae doesn't often make the same mistake two times in a row. I think that's been the secret to her early success."
Bryant (0-4) and YSU (3-0) were tied at 27 at halftime. The Penguins committed six turnovers and made five 3-pointers on 23 attempts in the first half.
"We're not only a 3-point shooting team," Brown said. "We do rely heavily on 3-pointers, but open layups and open 3, high percentage shots, that's the type of team we want to be."
YSU led just 46-45 with 10:03 to play, but closed with a 29-14 run.
Boldon said his team played with a lot more energy in the second half.
"I don't think that was necessarily true in the first half," he said. "Obviously that was a little bit frustrating, but it was nice to see us respond."
Brown said energy falls into the Penguins' lap.
"Our energy is what we can control, so we just need to do a better job of controlling that and making sure our energy is always high," she said. "That's what we did in the second half as opposed to the first."
The Penguins scored 34 points off 29 turnovers.
"If we didn't have the turnovers, we undoubtedly would've lost this game," Boldon said.