There's an app for getting kids interested in library story time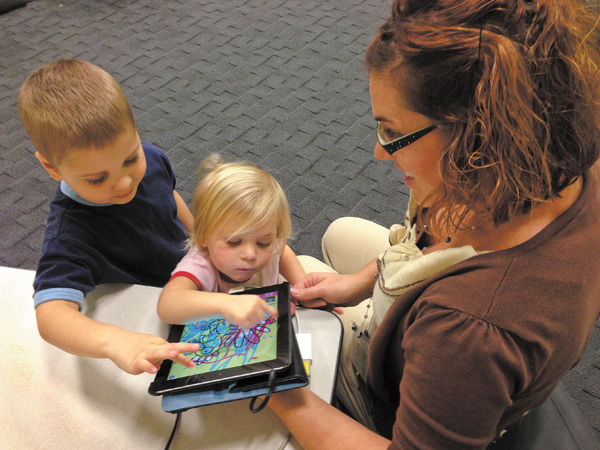 Photo
Connie Spin of Boardman attended an iPad story time at the Newport Branch with her daughter, Sydney, 2, and son, Jackson, 4. "They like to play on the iPad and the iPhones a lot," she said of her children.
YOUNGSTOWN
Storybook characters come alive at the public library's new iPad story times for preschool children.
The free early-literacy sessions for 2- to-5-year-olds and their parents, grandparents or guardians use Tumblebooks, a database of electronic children's books with animated features, together with iPad applications geared toward early learning.
Three such programs have been offered this fall at the Newport Branch of the Public Library of Youngstown and Mahoning County, 3730 Market St. The next iPad story time will be at 11 a.m. Dec. 12 at that branch.
"This technology turns the pages of a traditional book into a multisensory learning experience," said Wayne Bartholomew, the library system's technical-training liaison, who trained the system's children's librarians in the new technology and applications.
"Sophisticated applications, or 'apps,' bring classic characters to life in a way that many great authors never imagined," Bartholomew observed.
"The original illustrations for 'Alice's Adventures in Wonderland' are now partially animated, and the Dr. Seuss books come with audio narration," he added.
"It just gives you a lot of options. Everything that you're doing is right at your fingertips. ... It's easy to go from one app to the next thing," Amy Bowers, children's librarian, said of the iPad story times.
Bonnie Martinko attended a recent iPad story time with her 3-year-old grandson, Jack Martinko. Both reside in Boardman.
"He loves to come to the library, and we wanted to try something new," Martinko said of her grandson. "He's pretty good on a computer, and he helps me," added Martinko, who acknowledged that she doesn't own an iPad.
Connie Spin of Boardman attended the session with her daughter, Sydney Spin, 2, and son, Jackson Spin, 4. "They like to play on the iPad and the iPhones a lot," she said of her children.
"I absolutely am amazed at some of the apps that I was unaware of that are out there that are great teaching experiences," Spin said after the session ended.
"It held their attention, and they're all different ages," Martinko said of the program and the children reacting to it.
"They're good," Jackson said of the iPad apps he saw during the program.
Because her children aren't enrolled in a preschool or day-care center, Spin said she uses the library programs to socialize them with other children while they engage in an enjoyable learning experience.
Lasting 30 to 45 minutes, the story times with the iPad include songs and an opportunity for children to draw and color using the iPad. They also introduce parents to children's apps and Tumblebooks they can download to their iPads.
At the most recent iPad story time at the Newport Branch, which featured a Thanksgiving theme, Bowers read aloud from an electronic children's book projected onto the wall, which was titled "The Turkey Who Forgot to Gobble."
The Martinkos and the Spins also heard the story of the Pilgrims and Native Americans participating in the first Thanksgiving. During the program, Bowers played recordings of sounds made by turkeys.
Bowers drew a turkey on the iPad, and the children colored the turkey using the iPad, while it was projected onto the wall.
Bowers not only presented Thanksgiving-related children's books in electronic form, but she also displayed on a table a large collection of those books in printed form, which parents could borrow.
"Literacy has to be reinforced with books and with technology because it is what our children know today," said Josephine Nolfi, the library system's children's services manager.
Story times with the iPad are being offered in addition to, and not in place of, traditional story times based on printed books, Bowers said. "We definitely are going to keep doing our regular hardcover book story times," she said.
The library system has several thousand children's electronic books in its collection, said Janet Loew, the system's communications and public relations director.
The content of each iPad session is projected onto a screen or wall so all parents and children can clearly view the program.
The apps presented in these programs include nursery rhymes, animal sounds, the alphabet and drawings that help children learn to recognize shapes.
More like this from vindy.com