Harrises honored with party for 50th anniversary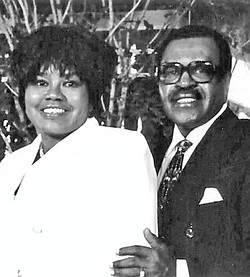 Photo
MR. AND MRS. ROOSEVELT HARRIS
YOUNGSTOWN
Mr. and Mrs. Roosevelt Harris of Youngstown were honored by their family with a party for their 50th wedding anniversary Oct. 12 at St. Mark Social Hall.
It was hosted by their children, Kira D. (James) Campbell of Columbus, Roosevelt C. (Theresa) Harris and Krystal Harris, all of Youngstown, and a niece, Kim Smith.
They also have five grandchildren and one great-grandchild.
The former Vera Mae Peeples and Mr. Harris were married Oct. 12, 1962, by a justice of the peace in Monroe, Mich.
Mrs. Harris is an office assistant at Sears, Boardman. She has been a member of New Bethel Baptist Church for more than 50 years and is a member of its Altar Guild and Nurse's Guild. She also is a member of the Apollo Club.
Mr. Harris retired as a guard in 1992 from U.S. Steel Corp. and retired in 2000 from the Juvenile Justice Center. He has been a member of the church for more than 60 years and is a member of its male chorus.