Golden Gate suicide survivor speaks at Boardman workshop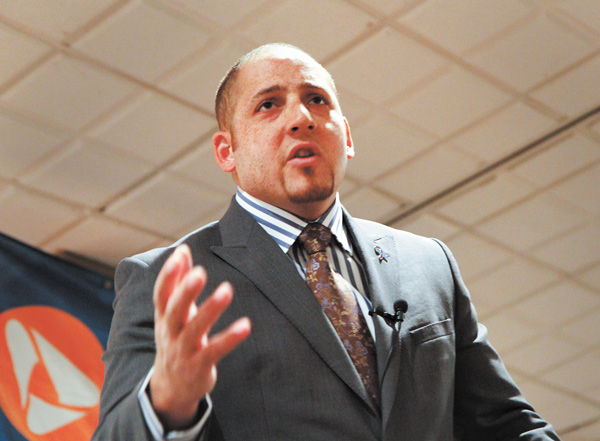 ---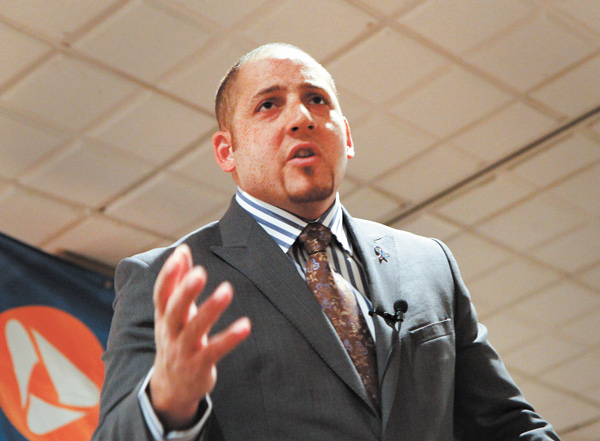 Photo
Kevin Hines, one of a few people who survived a suicide attempt by jumping from the Golden Gate Bridge in San Francisco, speaks at a suicide-prevention workshop at Antone's Banquet Center, Boardman.
By Sean Barron
BOARDMAN
When Kevin Hines was an infant, the groundwork already had been laid for him to eventually jump 220 feet from a famous bridge, enter the water at 75 mph and be sucked 70 feet to 80 feet under the surface — yet realize he was a survivor.
"My brain was trying to kill me when I was trying to stay alive, and my brain was winning," the 31-year-old San Francisco man recalled about his state of mind shortly before jumping from the Golden Gate Bridge 12 years ago in an effort to commit suicide.
Instead of dying, Hines shattered several vertebrae, endured excruciating pain and realized his legs were immobile, which reinforced his fear he would drown.
Nevertheless, Hines inexorably reached the surface before the Coast Guard rescued him, he told a rapt audience of more than 200 mental-health professionals and advocates, agency workers and others who attended Wednesday's suicide-prevention workshop at Antone's Banquet Center, 8578 Market St.
Help Hotline Crisis Center Inc., the Potential Development program, PNC Bank and the Margaret Clark Morgan Foundation were the three-hour event's main sponsors.
Hines, a nationally known motivational speaker, writer and suicide-prevention advocate, is one of a handful of people to have jumped from the bridge and survived. He also is among the few to have regained full mobility.
During the luncheon, Hines described how his infancy was marred by his parents' alcohol and drug addictions, which often meant being left alone in motel rooms with an infant brother amid drug paraphernalia.
Over time, however, loving foster parents adopted him — and his brother — after they had bounced through California's foster-care system. Despite being in a nurturing and caring home, the young Hines soon became violently ill, something he attributed to mental and emotional anguish associated with having been abandoned.
"They gave us an existence filled with future, hope, love and kindness. They gave us the gift of life," Hines said about his foster parents.
Hines continued to thrive, though at 17, he developed bipolar disorder, leading to recurring hallucinations, depression and manic episodes.
Severe depression was a driving force behind Hines' decision to try to end his life Sept. 24, 2000, when he was 19.
"I just wanted the pain to be over and to be free," said Hines, adding he had become convinced no one cared about him and that he was worthless and a burden to others.
"I just wanted one person to say, 'Are you OK?'"
Before ending up on the bridge, Hines made final preparations that included looking at websites that promoted suicide, dropping most of his college courses and writing a suicide note, he continued.
Immediately after jumping, he realized the permanence of his choice, saying, "I made the worst decision of my life."
The experience also led Hines to believe that some people become so mentally unstable that they feel they have to die via suicide, he explained.
Hines, who underwent extensive back surgery to slowly regain mobility, urged attendees to reach out to those in emotional distress.
"Every day you awaken is a gift," Hines said, adding that his doctors gave him a 50 percent chance to live after the attempt. "I know life is a gift and that I'll march forward no matter how much [emotional] pain I'm in. I love every minute of my life and take nothing for granted."
Additional remarks came from Duane Piccirilli, Help Hotline's chief executive officer; Ryan Pastore, PNC Bank's vice president and director of client and community relations; Kim Calvert, the Youngstown/Warren Regional Chamber's vice president of marketing and business services; Carolyn J. Givens, executive director of the Ohio Suicide Prevention Foundation; and Tracy Plouck, director of the Ohio Department of Mental Health.