Ursuline students appeal for safety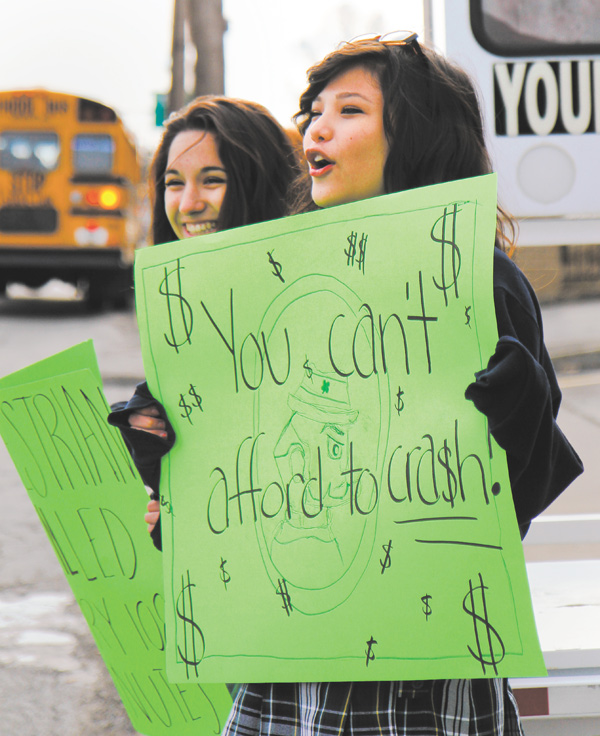 ---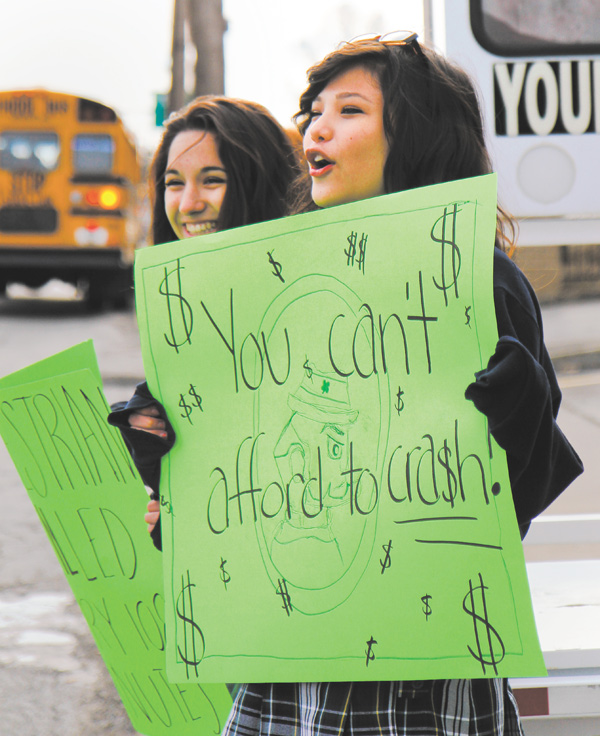 Photo
Ursuline High School sophomores Alexa Mollica, left, and Alyssa Lytle warn Wick Avenue drivers about the importance of yielding to pedestrians.
By Denise Dick
Youngstown
Some Ursuline High School sophomores want drivers traveling past the school to slow down and pay attention.
A group took to the sidewalk Wednesday afternoon, holding posters with messages such as "Yield for pedestrians," "What if it's your child," "Put down your phone" and "Go slow before the po-po gets yo."
Kyle Correia, 15, said he and his classmates in Aimee Morrison's English class were learning about logical, ethical and emotional appeals used in literacy.
They identified a problem: motorists traveling too fast, talking on their phones and not stopping at the crosswalk along Wick Avenue in front of the school. The speed limit is 20 mph during school hours. Motorists must stop when a crossing guard holds up a stop sign
so students can cross the street.
Morrison, who also works as a crossing guard at the school, said the students in her class complain that some of the literature they read for school is old. "I tell them that the persuasive techniques used back then are the same that are used today," the teacher said.
To get authorization from the school to have the students outside with posters, Morrison had to secure an OK from city police. The police department brought a speed trailer and parked it in front of the school, alerting passersby to how fast they're traveling.
Speeds Wednesday afternoon ranged from 16 mph to 25 mph. One driver, upon seeing the posters, accelerated through the area.
Aislinn Rubinic, 15, said that lots of cars go through the crosswalk. She sees the same thing in the morning upon arriving at school.
Morrison acknowledges that the effort likely won't produce long-term change.
"If it makes someone realize they're supposed to stop" it was worth the effort, she said.
The Austintown crossing guard injured last week while crossing students from that school has been moved to rehabilitation, her twin sister, Dana Kosco, said.
Darcy Fletcher, 43, was on duty Nov. 8 at a school crossing when a van struck an SUV, which then struck her.
"They're going to evaluate her between now and Tuesday for speech, occupational and physical therapy and go from there," Kosco said.
Fletcher's skull fractured when her head it the pavement. The driver of the van, Rafael Rodriguez, 35, of Allison Park, Pa., was cited for failure to maintain assured clear distance ahead.
Kosco said Fletcher still is in a lot of pain and suffers from double vision in one eye.
Some of her friends have begun a T-shirt fundraiser for Fletcher, and shirts are available for $10 by calling Rochelle Tharp at 330-792-7551 or Tammy Johns at 330-951-8989. Fletcher doesn't have health insurance.
Austintown Police Chief Bob Gavalier said the department is working with the school district to devise a plan to address the traffic problem near the schools. A school construction project under way means that two schools are being dismissed at the same time, causing congestion on Idaho Road near the school entrance.
The problem is that bus arrival and departure coincide with the police department shift change so fewer officers are available.
Since the accident, an officer that had been assigned other duties has been reassigned to Idaho Road, he said.
"It's one officer with a marked unit from 2:30 to about 3:30," Gavalier said. "They're supposed to make sure the buses get out and the kids get safely across the street. Basically, if they're there with their lights lit up on their cars, hopefully, people will start slowing down and paying more attention."
Some of the problem, according to the chief, is caused by parents who drop their children off in the road to avoid pulling into the school campus.
"We're working to come up with a long-term plan while the construction is going on," Gavalier said.