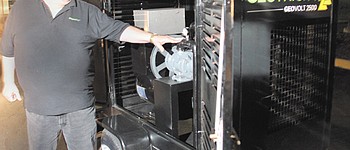 Natural-gas industry interested in GeoVolt
Published: 11/15/12 @ 12:10
YOUNGSTOWN
Although it's still in the testing phase, a product designed to use the pressure from natural-gas wells to generate electricity already is drawing interest.
The power generated by each GeoVolt can be enough to power three homes, said Ken Jackson, inventor of the product, which is being developed by a company called Geotricity.
"How much power they can receive depends upon how much pressure the well produces," he said. "The devices can be stacked together to generate more electricity if there's enough pressure to operate them."
The technology uses the pressure produced by natural-gas wells to spin a turbine, which then generates power, said Bob Jadloski, a Niles inventor who is helping to promote the device.
"It's similar to what they do with hydroelectric power. The power produced by the turbines is completely green," he said. "I'm surprised someone hasn't come up with this idea before."
Oil and gas companies can use the pressure from their wells to generate the power needed to operate machinery at the site, Jadloski said. At times it could produce enough electricity for it to be sold back into the power grid.
"We're not trying to sell it [yet], we're just trying to make people aware," he said.
The state has recognized GeoVolt as being a zero emission method of producing electricity, Jackson said. The GeoVolt was considered a green-energy alternative by the state along with solar and wind as part of Senate Bill 315 in the 2012 legislative session. The company is currently working to receive green-energy credits from the federal government as well.
This technology would help any business that uses natural gas to offset their electricity costs, he said.
"The expectation is the oil and gas industry will be our largest market," Jackson said.
This is technology that could have existed before, but most vertical wells simply did not produce enough pressure, Jackson said. The large horizontally fractured wells generate considerably more pressure.
"We're currently testing the product on a Clinton well transmission line in Minerva," he said. "We've also done demonstrations in Texas, Louisiana and all over."
Today, Jadloski and Jackson are doing a presentation on the machine for the Trumbull County commissioners. The company is even receiving interest from are far away as South America. The GeoVolt is attractive to companies that are drilling in isolated areas with limited access to electricity, Jackson said.
The GeoVolt costs $25,000, but there are alternative-energy incentives available. The estimation is the equipment will pay for itself and then produce $500 to $1,800 per month in electricity.
Don't Miss a Story
Sign up for our newsletter to receive daily news directly in your inbox.