Kirtland, Ursuline worth hype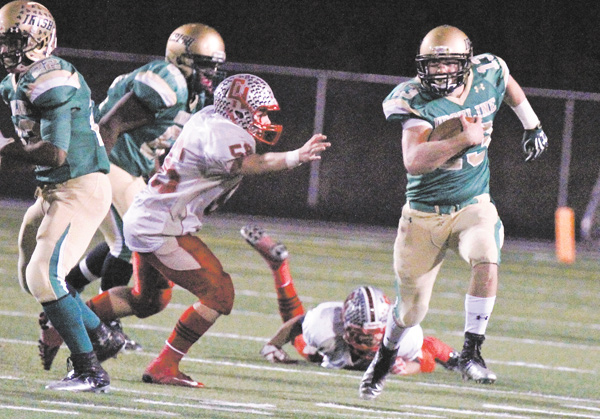 Photo
Ursuline quarterback Chris Durkin (13) breaks through the Cuyahoga Heights' defense during the Division 5, Region 17 semifinal in Copely. The Irish, four-time state champions, face the defending state champion Kirtland Hornets on Saturday in a matchup that everyone has been waiting for — well everyone but their coaches, that is.
Irish beat Hornets in 2008 and 2010 playoffs
YOUNGSTOWN
It's a regional final in Aurora that will have the fanfare of a state final in Massillon.
Defending Division V state champion Kirtland and four-time state champion Ursuline, it's a matchup everyone's been waiting to see.
Except the coaches.
"Any time you get this deep in the playoffs, you're going to play a good team," said Kirtland coach Tiger LaVerde. "It's no different than preparing for any other team. They just happen to be more talented."
While LaVerde and Ursuline coach Larry Kempe won't admit that these are the respective teams they had penciled in as Week 13 opponents, it's what many fans expected.
Kirtland (12-0) is coming off a 28-14 win over Crestview, a game that showed the Hornets' versatility.
Damon Washington, the 2011 Division V Offensive Player of the Year, is the centerpiece, but he didn't need to be last week. Sophomore Adam Hess ran for two touchdowns with 68 yards and Sam Kukura added 60 with a 25-yard TD run that secured the victory.
Throw in quarterback Scott Ellerman who's a dual threat and the Hornets average nearly 380 rushing yards per game.
"Last year, we played our best football in Week 15 against Coldwater," LaVerde said of the 28-7 title game. "Hopefully our best game this year is the one coming up."
Kempe was pleased with the improvement in his defense after a disappointing showing in the first round against Sugarcreek Garaway. The Irish limited Cuyahoga Heights to 99 rushing yards, the third time they've held a team to under 100 this season.
"Our secondary has gotten a lot better and we were able to blitz a lot and put great pressure on the Cuyahoga Heights quarterback," Kempe said. "We've also made great strides on special teams."
Kicker Vince Yurcho had a career day and set a school-record with 14 points. Yurcho had kicks of 30,32 and 33 yards and made all five of his extra-point attempts.
Kirtland averages 41.3 point, while Ursuline (8-4) averages 35. During the regular season, the Hornets' biggest win was 57-0 over Newbury and their closest game was a 20-18 win against Beachwood.
The Irish have scored 108 points in the playoffs, Kirtland has scored 77.
"You never know until you get into the game if it's going to be high scoring or low scoring," LaVerde said. "The game plan is to take advantage of another team's weakness, but with Ursuline there isn't much of a weakness."
Irish quarterback Chris Durkin has thrown for 241 yards in the postseason with two touchdown passes. He had long throws of 55, 38 and 20 against Sugarcreek.
Jermaine Williams and Tramain Thigpen have rushed for 326 and 201 yards in the past two games, respectively.
"Our offense has become very balanced," Kempe said.
While Ursuline is just three wins away from a fifth state championship, a regional title is the first piece of hardware needed to make up for last year's playoff absence.
"Kirtland is going to be the defending state champion until somebody knocks them off," Kempe said. "Hopefully it can be us."