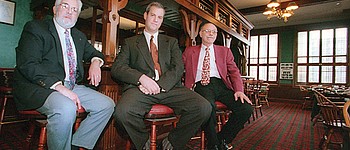 Doors to close on Youngstown tradition
Published: 11/15/12 @ 12:01
By JAMISON COCKLIN
jcocklin@vindy.com
YOUNGSTOWN
The Youngstown Club, an iconic meeting place that for more than 100 years played high-class host to the city's leaders and business moguls, will close Jan. 1.
After years of dwindling membership and waning revenues, the club will have its last New Year's Eve celebration Dec. 31, and close the doors on a tradition that first began in 1902 when a group of businessmen met in private at the Dollar Savings and Trust Co. on the corner of Commerce Street and Wick Avenue.
In its 110 years of operation, the club played host to secretaries of state, mayors and steel barons, and counted among its presidents members of some of Youngstown's gilded families like the Tods and Beeghlys.
"The economy was our biggest challenge," said Katie Dodd, the club's general manager. "The younger generation just doesn't seem to appreciate the idea behind a private club, and our membership has declined over the years. We've struggled to make ends meet."
At its peak in the 1970s and 1980s, the club boasted a membership of 1,100, but since then has only declined, dropping to about 250 this year.
When the club was first formed, its founders were pulling a page from 18th-century London, where the upper class first set out to provide their own with an exclusive gathering place.
In its early days, this meant invitation-only membership at the Youngstown Club, where, until 1989, even women —including members' wives —were barred from the main dining room.
The color of one's skin and religious affiliations were just as much a part of the social fabric, too, but in time the club evolved to tolerate changing social circumstances.
Eventually, the overhead became too much and it was forced to open its doors to the public for dining on special occasions and in recent years the club has turned to booking wedding parties as its primary revenue source.
"At one point, it was an aristocratic gentleman's club, but it did everything it could to evolve with the times, opening up to women and other groups," said Scott Lewis, a former board member whose father, Daniel Lewis, became the first Jewish member after receiving an invitation. "But unlike a country club, we couldn't offer tennis, swim or golf, and a great meal just wasn't enough to carry it on."
Over the years, the city's history seemed to unfold with the club itself.
As the downtown grew, the club called four different buildings home with its beginnings in the Dollar Savings and Trust Co. building. It moved from the Bank One building to the Union Savings and Trust Building, now the location of Chase Bank, to its current spot on the fourth and fifth floors of the Commerce Building, which was once Haber's Furniture Store, just east of Central Square.
In the 1920s, the club was raided for suspicions over gambling, and in 1963 it earned national attention after it was burned to the ground in a hit ordered by mob leaders who sought revenge against business leaders there who were adamantly opposed to organized crime in the city.
Wednesday's announcement was met with sadness throughout the community.
"Just the size of it; the overhead is very expensive," said Youngstown Mayor Charles Sammarone. "I hate to hear it's closing because it's been there for as long as I can remember. It has a beautiful wood bar. It's been around for a long time."
Jeffrey Kurz, a Youngstown lawyer and young property developer, agreed. "I had my rehearsal dinner there and am very saddened to hear of its closure. It is certainly one of the most beautiful historic private clubs in Youngstown.
Lewis, the former board member, shared fond memories.
"I am a Youngstown Club brat. I can remember, when it was in the Union Savings and Trust building, there used to be a treasure chest full of toys," he recalled. "My sister and I always wanted to go for dinner on Sundays because we knew that afterward we'd get to pick out a toy."
As she sat in the club's cherry-paneled main dining room, named after the city's founder John Young, Dodd said the club might have closed 15 years ago without the generosity of Richard Mills, who owns the building occupied by the Youngstown Club.

Mills, who for years has discounted rent for the club, declined to comment Wednesday.
Dodd said about 20 employees will lose their jobs, some of whom have worked there for decades. Club members will be informed with a letter and parties booked through next year will see their deposits returned in the coming weeks.
In the back office, the phones continued to ring on Wednesday, as members frantically tried to verify the club's closure and the media clamored after the developing story.
But it was business as usual in the dining room, where employees worked to pick up after the lunch service.
"I don't know what I'll do," Dodd said when she was asked what's next for her. "I've been here for seven years now and I've just fallen in love with the place. There's so much history here."
Don't Miss a Story
Sign up for our newsletter to receive daily news directly in your inbox.