Traffic fatalities in Trumbull show sharp increase over 2011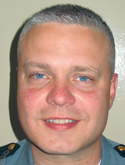 ---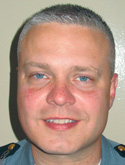 Photo
By Ed Runyan
WARREN
Lt. Brian Holt, commander of the Southington Post of the Ohio State Highway Patrol, first announced in July stepped-up efforts to stop dangerous driving behaviors.
At that time, Trumbull County had recorded 15 traffic fatalities — enough to put the county on pace to reach 30 for the year.
The pace hasn't slowed in the four months since, with 14 more and a total of 29. That is far more than the 20 in 2011 but still below the 32 for 2010.
In comparison, Mahoning County has recorded 18 traffic fatalities so far this year, four fewer than this time last year, but Ohio has logged 90 more fatalities than this time last year, according to the OSHP.
Typically Trumbull County records 20 to 25 traffic fatalities per year, Holt said.
Holt said he remains focused on driver behavior, with the post taking a "zero-tolerance approach to traffic enforcement" to increase trooper visibility.
"I believe there is a direct correlation between taking aggressive enforcement and changing people's behaviors," Holt said.
The Southington post has drawn personnel from other posts and will use "creative scheduling" through the end of the year to get as many troopers on the road as possible, Holt said.
As for possible reasons for this year's death total, Holt blames alcohol and drug use, as well as failure of drivers to use seat belts.
"They think it will happen to everybody else," he said of drunken drivers and those not wearing seat belts.
"The sad truth is too many people die on Trumbull County roads — senseless deaths that could be avoided." Holt said he's noticed that Trumbull County residents seem "not as sold on seat-belt use as in other areas." Trumbull County also appears to have a higher incidence of alcohol-and-drug-related crashes than the state average, Holt said.
The crash report obtained by The Vindicator of the Sept. 21 accident on South Canal Street in Newton Township that killed Jamie and Emily Danes and injured Paul Wodianka seems to exemplify the problems Holt cited.
Wodianka, 42, was traveling north on Canal Street at high speed when he collided head-on with the Danes' vehicle, which was southbound. Jamie Danes, 37, his wife Emily Danes, 29, are from the Newton Falls area. Wodianka has a Diamond, Ohio, address, which is near Lake Milton.
Wodianka was indicted by a Trumbull County grand jury last month on two counts of aggravated vehicular homicide in the crash, as well as four counts of drug abuse and one count of driving under the influence of alcohol or drugs.
The Danes were pronounced dead at the scene of the 10:30 p.m. crash. Wodianka spent for days in the hospital recovering from his injuries. Wodianka was wearing a seat belt. The Danes, driving home from dinner and a movie to celebrate their wedding anniversary, were not.