Sheriff Wellington seeks $4.8M more in 2013 budget
Tweet
Published: Wed, November 14, 2012 @ 12:10 a.m.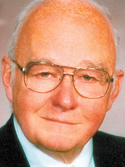 Photo
YOUNGSTOWN
The Mahoning County Sheriff's Office is asking county commissioners for $22.7 million from the general fund for next year.
Sheriff Randall Wellington, who is retiring at the end of this year, told the commissioners that budget would permit hiring 57 additional sheriff's deputies to allow the complete opening of the main county jail and the reopening of the minimum-security jail. The sheriff's office now has 220 deputies.
Saying his proposed budget includes no staff pay increases, the sheriff presented the request at a Tuesday budget hearing, which was attended by Sheriff-elect Jerry Greene and Commissioner-elect David Ditzler.
The 2013 request compares with a total general fund budget of $17.9 million for the sheriff this year.
The jail inmate medical-care component of the budget went from $1.7 million this year to a requested $2.1 million for next year, an increase the sheriff attributed to the rising cost of health care.
"It is going to be a tight picture going into next year," warned Audrey Tillis, county budget director.
The combined requests of all county departments from the general fund add up to $62.6 million but the county budget commission has certified only $50.2 million in revenue for next year's general fund, she noted.
Tillis said she hopes $2 million to $3 million in carryover from this year can be added to next year's budget. Authorized general fund spending for this year is $54.1 million.
The general fund is the county's main operating fund, which supports the jail, courts, prosecutor's office and other central functions of county government. The sheriff's department is the fund's largest user.
The county is still operating under its recession-induced budget constraints at a capacity of 458 jail inmates, 200 short of the 658 that could be housed if the entire main jail were open and the 96-bed minimum security jail were to reopen, said Maj. Alki Santamas of the sheriff's office.
"We haven't increased staffing. We're doing more with less," Santamas said. "We're releasing prisoners out on the street to keep within compliance" of current jail capacity, he told commissioners.
Greene said he wants the county to buy truck-weighing scales so he can protect county roads from damage from overweight trucks and fine their drivers, reintroduce revenue-generating federal prisoners to the jail, charge booking fees to inmates, charge fees for criminal background checks and fingerprints, and charge fees for those buying real estate at sheriff's sales.
Those measures combined could generate about $1.5 million in annual revenues, he said.
Greene said Columbiana County generates about $180,000 in annual revenue by charging a $300 fee to buyers of real estate at its sheriff's sales.
"We're going to sit there and go through it line by item, and do the best we possibly can to make the sheriff as whole as we possibly can, but revenues are down from last year," said Commissioner Anthony T. Traficanti.
"Even though sales tax [revenue] is up, interest income is down, and so is real estate" tax revenue, Traficanti explained.
"Public safety is No. 1, and every dollar that I can certainly squeeze out will definitely be going to the sheriff," Traficanti said.
Any carryover to 2013 will have to be used to pay down the county's debt, however, he added.
Tillis said she hopes the commissioners can adopt next year's budget by Dec. 1. Their deadline to do so is Dec. 31.