Roethlisberger could be out for some time with injury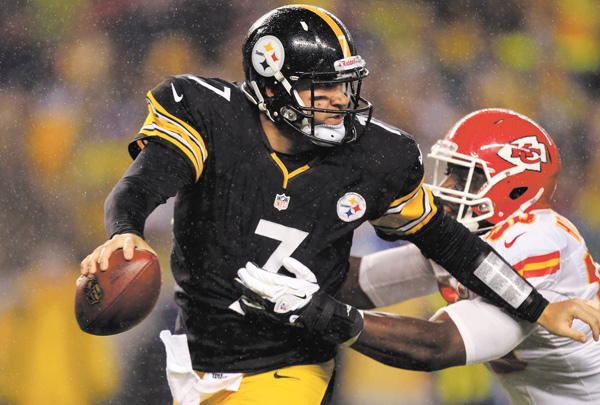 ---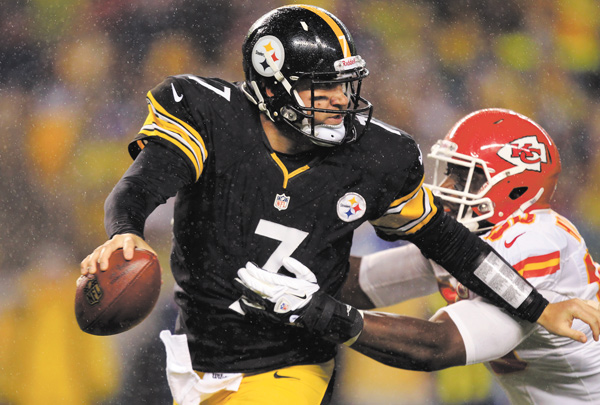 Photo
Steelers quarterback Ben Roethlisberger evades Kansas City outside linebacker Justin Houston in the first quarter of the Steelers' 16-13 OT win Monday in Pittsburgh. Roethlisberger did not escape Houston in the third quarter and suffered a shoulder injury that could sideline him for some time.
Associated Press
PITTSBURGH
Ben Roethlisberger left Heinz Field on Monday night with his sprained right shoulder in a sling. When he walks back in ready to play is anybody's guess.
Coach Mike Tomlin called Pittsburgh's franchise quarterback "questionable" but otherwise offered little detail Tuesday, less than 24 hours after Roethlisberger was pounded into the ground by Kansas City Chiefs linebackers Tamba Hali and Justin Houston in the third quarter of Pittsburgh's 16-13 overtime victory.
"He is being evaluated," Tomlin said. "Obviously this injury puts his participation in the questionable category for this week."
Roethlisberger left the game and went to the hospital to for an MRI-exam. He underwent more tests on Tuesday to determine the severity of the sprain to the sternoclavicular (SC) joint in his throwing shoulder.
The SC joint connects the collarbone to the sternum. Treatment can range from a few days of rest and ice to as much as 4-6 weeks according to Dr. Victor Khabie, chief of sports medicine at Northern Westchester Hospital in Mount Kisco, N.Y.
"You could tape it, you could do that stuff but the reality is those ligaments just have to heal," Khabie said. "If you go throwing, you slow down the healing process."
Roethlisberger was scrambling in the pocket to buy time on Pittsburgh's first possession of the second half when Houston wrapped up Roethlisberger's legs and Hali slammed into him, driving the quarterback's right side into the damp Heinz Field turf. Roethlisberger didn't appear to be hurt walking off the field but quickly made his way to the locker room before leaving the stadium with the game still in progress.
"It didn't seem like a tough hit ... but he came to the sideline and next thing you know he was gone," Pittsburgh left tackle Max Starks said. "I'm hoping it was nothing serious. Honestly it didn't seem like it."
If Roethlisberger can't play, the Steelers (6-3) will turn veteran backup Byron Leftwich, who completed 7 of 14 passes for 73 yards in relief as Pittsburgh won its fourth straight game thanks to Shaun Suisham's 23-yard field goal 51 seconds into the extra period.
The 32-year-old Leftwich hasn't started a game since 2009, when he went 0-3 for the Tampa Bay Buccaneers. His last victory came on Oct. 8, 2006 when the Jacksonville Jaguars beat the New York Jets 41-0.
The former first round pick has spent most of the last six years as a backup while dealing with a series of significant injuries. He missed all of last season after breaking his arm in a preseason game and threw seven regular season passes in 2010 after hurting his knee at the end of training camp.
Though there was a bit of rust after getting pressed into service, Leftwich did guide the Steelers to a go-ahead field goal in the fourth quarter.
"I try to prepare as if I am the starter every week," Leftwich said. "Nothing will change. I wish Ben the best. I hope he is healthy. Other than that I will be ready to go."
Leftwich insists he has mastered offensive coordinator Todd Haley's playbook and Leftwich's teammates are hardly concerned if he's under center on Sunday.