Penguins must win finale to have any playoff hopes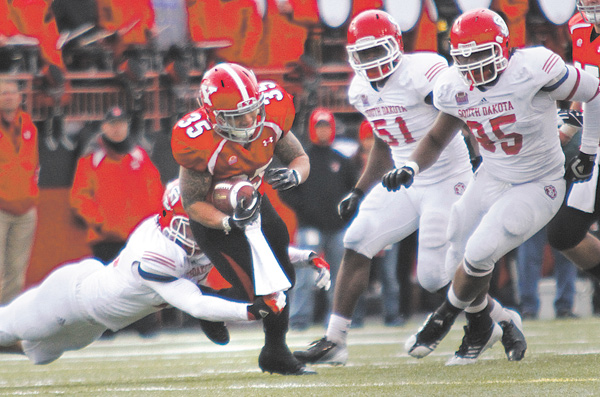 ---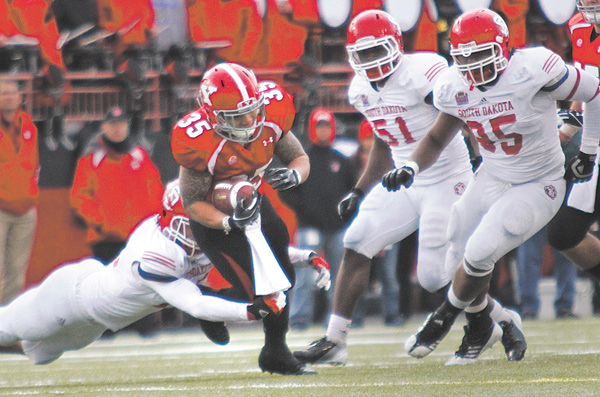 Photo
Jamaine Cook and his Youngstown State teammates may be coming off back-to-back wins — their Nov. 3 homecoming against South Dakota and last week against Western Illinois — but thanks to a four-game losing skid last month, the Penguins can do no better than fifth in the Missouri Valley Football Conference standings. To earn a playoff berth, the Penguins must defeat Indiana State on Saturday and pray that the playoff committee is really, really impressed with their season-opening win over Pitt.
Penguins must win finale to have any playoff hopes
By Joe Scalzo
YOUNGSTOWN
At this time last year, the Youngstown State football team was 6-4 and needed only to beat Missouri State in the finale to qualify for the playoffs.
This year isn't so simple.
Thanks to their four-game losing streak in October, the Penguins (6-4, 3-4 Missouri Valley) can do no better than a tie for fifth in the conference standings. That means they need to beat Indiana State this weekend and pray that the playoff committee is really, really impressed with their season-opening win over Pitt.
"As far as playoffs go, I think my take on that is this: I have to worry about the present," said Penguins coach Eric Wolford. "Obviously, that means making sure we have a good practice today, making sure we're focused and making sure we're ready to play the best we can.
"If it's meant to be, it's meant to be."
Since YSU has only qualified for the playoffs once since 2000, many fans don't know much about the setup in the FCS. So here's a quick primer:
Each year, 20 FCS teams qualify for the playoffs.
Ten conferences receive automatic bids: the Big Sky, Big South, Colonial, Mid-Eastern Athletic Conference, Missouri Valley, Northeast, Ohio Valley, Patriot, Southern and Southland.
There are actually 13 FCS conferences, but the Ivy League doesn't participate in the postseason, the Southwestern hasn't sent a team since 1997 (it plays its own conference championship game instead) and the Pioneer isn't good enough to merit an automatic bid. (That will change next year when the FCS expands to 24 playoff teams.)
Historically, teams have needed at least seven Division I (FCS or FBS) victories to qualify for the playoffs, but they usually need more.
Since 1986, only 31 four-loss teams have advanced (17 of those were at-large). Through last weekend's games, 36 FCS teams have won at least seven games.
One key indicator is the Gridiron Power Index, which is sort of the like the BCS of the FCS.
Over the past five years, 49 of the 50 teams that finished in the GPI's top 10 made the playoffs. The lone exception was North Dakota State in 2007; the Bison were not eligible for the playoffs that season since they were transitioning out of Division II. YSU is ranked 21st in this week's GPI. Indiana State is seventh. Among conferences, the MVFC is No. 1 in the country — by far.
The MVFC has only had four teams qualify for the playoffs once, in 2003, but the Colonial Athletic Association (which ranks sixth in the GPI) has had four or more in each of the last five years.
North Dakota State (9-1, 6-1) and Illinois State (8-2, 5-2) are probably already in, with South Dakota State (7-3, 5-2) needing only to beat last-place South Dakota this weekend to get a spot. That leaves Indiana State (7-3, 5-2) and YSU battling for the fourth spot. (Both teams have already lost to SDSU.)
When asked if he believes a win Saturday would be enough, YSU senior DT Aronde Stanton said, "I honestly do. The way I'm looking at it right now is, we have the toughest conference in the nation. A couple years they took four teams from one conference.
"We can't control anything about the committee or nothing like that. We've got to focus on winning. Once we win, we can focus on things we have no control over."
Of course, winning won't be easy. Indiana State has won two straight over YSU and enter with the second-best defense in the country by scoring (13 per game, just behind NDSU's 11 per game) and the sixth-best by yardage (286 per game).
All season, YSU has had a "playoffs or bust" attitude. When asked if a 7-4 season that didn't include the playoffs would be a success, Stanton said no.
"Coming into the season we had big expectations and we kind of lived up to those expectations early in the season," he said. "Then we had a slump. To get a win and go into the playoffs would be a big step into the direction we want to go. And once we get into the playoffs, anything can happen."