---
Wednesday, November 14, 2012
Burgerboyz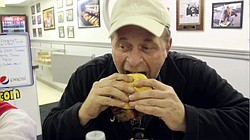 Video
Searching For The Perfect Burger.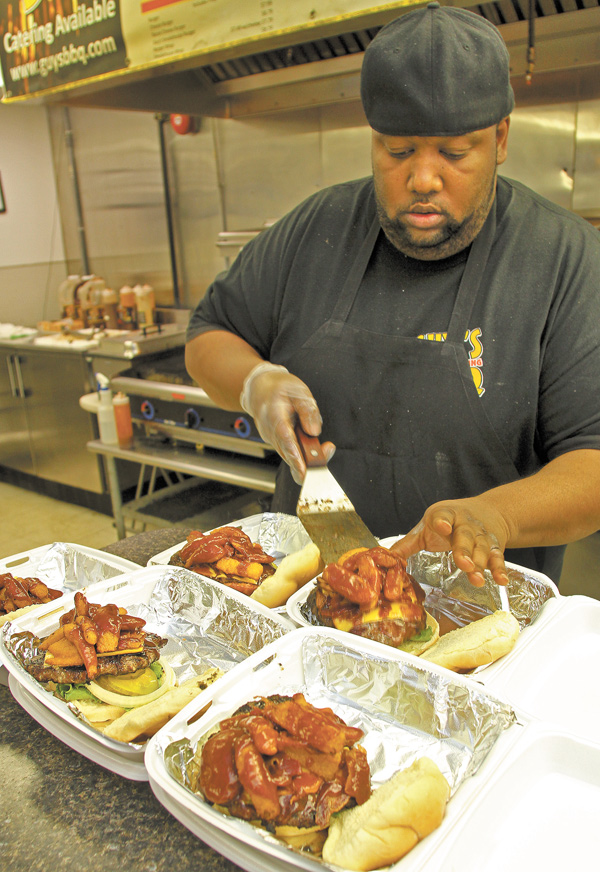 Photo
Cook Steve Jackson serves up Smokehouse burgers at Guy's BBQ in Youngstown.
When You Go...
Rating:
3 1/2
Where:
Guy's BBQ Carryout, 2545 Belmont Ave., Youngstown
Phone:
330-743-GUYS (4897)
Hours:
11 a.m. to 9 p.m. Monday through Friday; noon to 10 p.m. Saturday; and noon to 5 p.m. Sunday.
Menu:
Four burgers/two wraps ($7.29-$8.79)
Website:
Help us keep the burger hits going by sending your great burger suggestions to mvbrb@hotmail.com, and like the Facebook page Burgerguyz so you can keep up with all the freshest burger news.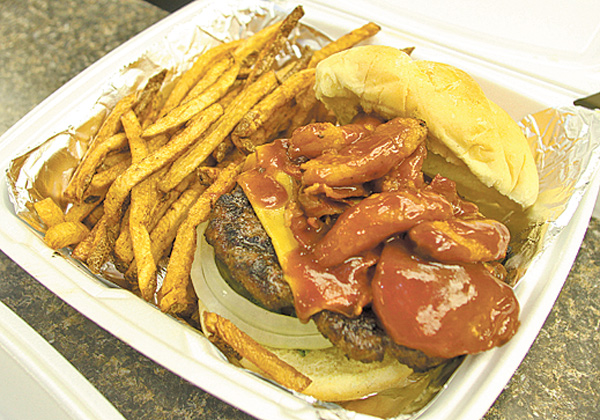 Photo
Smokehouse burgers at Guy's BBQ in Liberty.
By Anthony M. FUDA
YOUNGSTOWN
You've seen him on TV.
You've bought his award-winning sauce at your local grocery store.
You've even purchased those award-winning ribs at any number of fairs or festivals all over the country.
We're talking about Guy Hughes and his line of Guy's BBQ Sauces.
After 30 years of traveling the country, getting his name out and finding out how much people like his sauces, Guy opened a carryout restaurant, Guy's BBQ Carryout, right on the border of Liberty and Youngstown.
We went on a Wednesday, and it was packed with people waiting for takeout orders from the moment we arrived to the time we left. Guy's is not set up as a restaurant, but it has a couple of tables and chairs to accommodate a small group — like the Burger Guys.
There is no waitress or fancy menu. Just straight-forward barbecue.
You walk in and see the numerous awards lining the window and photographs of Guy in those competitions on the walls.
You walk to the counter, look up at the menu on the wall, place your order and wait for the delicious barbecue you've been craving all day.
There are four burgers on the menu: Burger, Cheeseburger, Bacon Cheeseburger and Guy's Smokehouse Burger (cheese, lettuce, tomato, onions, bacon and a layer of fried onion petals, all topped with some of that award winning barbecue sauce).
After hearing that Guy's Smokehouse Burger was the favorite, we all ordered one and commandeered the tables.
While you wait, you can watch Guy's son, Steve Jackson, man the grill and create the great-smelling masterpieces. We heard the sizzle as the meat hit the grill, watched the flames roar around the burger and sear in some great tasting flavor, and waited as our olfactory senses were overwhelmed by burger bliss.
Steve put the burgers and thin-cut fries in their respective containers, and we were ready to eat.
Opening the boxes, we were overcome by that great grilled smell. We all took our burger bite tests, and this burger passed with flying colors.
There are so many toppings and so much barbecue sauce, we thought the bun would surely fall apart before we finished. But Guy has a fresh, soft bun that held up very well throughout what was a 10-napkin burger meal.
The taste of the flame-grilled burger was more than we expected.
I thought the barbecue sauce combined with the toppings and grilled beef had a great taste. This burger is a barbecue sauce-oriented burger, where the sauce is the main flavor and the rest of the burger soaks in that sauce, and the flavor gets better and better with each bite.
Scott said, "This is no sissy burger. You have to grab this burger with both hands, sink your teeth in, and not be afraid to get dirty."
"Now, I know what all the hype is about!" added JT. "I'm officially a fan. Guy's BBQ sauce is awesome! I prefer my bacon crisp, but the sauce made me forget all about that! Overall, this is a very good burger."
We are definitely glad Guy Hughes chose this area for his carryout restaurant to call home. He might specialize in ribs and chicken, but his burgers can rival some of the best in the area because the barbecue flavor heads straight for your stomach and makes you want more and more.
Guy's BBQ sauces are favorites of such celebrities as Steve Harvey, Grammy winner Peter Frampton, Michael Stanley, Joan Jett, and Grammy winner Nelly. If they put the sauce on the burgers, they'd be burger fanatics like us.
Guy hopes that his future customers will begin echoing what some of his past customers have said, "After you've tried the rest, now it's time to try the best!"