Daylight shootings consume Warren officials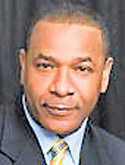 ---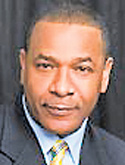 Photo
By Ed Runyan
WARREN
Tuesday was a busy day for police investigators who worked late gathering evidence into the Sunday morning killing of one man and wounding of another in a hail of bullets next to a day-care center and close to a downtown church.
The killing also presented challenges for the city administration, Mayor Doug Franklin told a council committee late Tuesday afternoon. The matter is "what I've been dealing with all day long," the mayor said.
Part of the reason for council's finance committee meeting was to discuss the 2013 budget, an opportunity for council members to ask Franklin whether he plans to hire additional police officers.
Franklin said the 10:30 a.m. shooting, which killed Marco Dukes, 32, of Warren and injured Larry A. Smith, 29, of Warren behind 156 Elm Road NE, was an "embarrassment."
Evidence markers police placed around the shooting site indicated there could have been 30 or more shots fired, including one that hit the day care, which was closed at the time, and several that hit an occupied apartment building.
The shooting is one of several recent crimes involving convicted criminals from Detroit.
But Franklin said it would be unwise to overreact to the violence by hiring more police officers than the city can afford.
"It's not always just about bringing on more officers, but we're going to do that. We have to do some progressive things," Franklin said.
Enzo Cantalamessa, Franklin's safety-service director, said the brazen nature of the shooting was "an anomaly" in a city that has had five homicides this year.
The only publicly acknowledged development in the case was the 11 a.m. Tuesday release from Trumbull County jail of Reginald Baldwin, 21, one of the two Detroit men taken into custody Sunday afternoon.
Warren Detective Michael Currington said Baldwin was released because prosecutors advised there was "not enough evidence to hold him."
Charges are going forward against the other man, Dale Hatch, 25, who will be arraigned on aggravated murder and felonious assault early today in Warren Municipal Court. Hatch remained in the jail Tuesday afternoon.
Baldwin went to the Warren Police Department after being released from the jail in an attempt to claim personal property he said police took from him.
When asked why police let him go, Baldwin said he doesn't talk to news media.
Dukes, 32, was found on the rear porch of 156 Elm Road with multiple gunshot wounds to his body and head. He died later at a Cleveland hospital.
Smith suffered at least one gunshot wound of the torso. A ValleyCare Trumbull Memorial Hospital spokesman said the hospital has no information on him.
Police apprehended Hatch on High Street Northeast a short time after the shooting. Baldwin was apprehended in the 200 block of Vine Street Northeast at around the same time. The two locations are in opposite directions from where the shootings took place.
Sgt. Jeff Cole said police continue to investigate a motive for the shooting.
The nonprofit organization Trumbull Neighborhood Partnership issued a press release about a public meeting at 3 p.m. Friday in the banquet room at the Sunrise Inn, 510 E. Market St., to discuss crime and safety issues in the city.