Akiva students learn lessons at OSU'S Lake Erie lab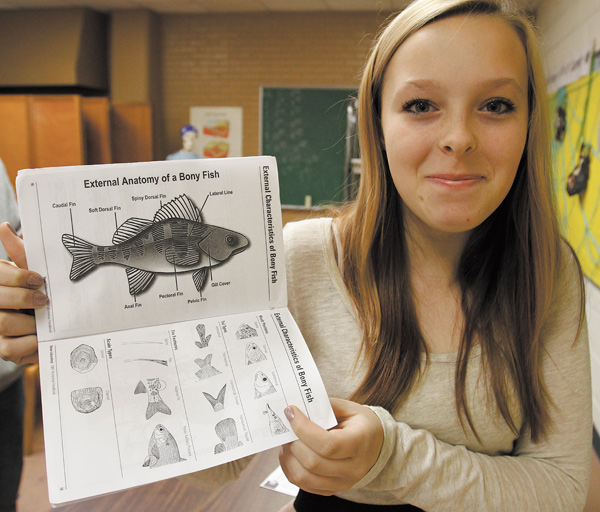 ---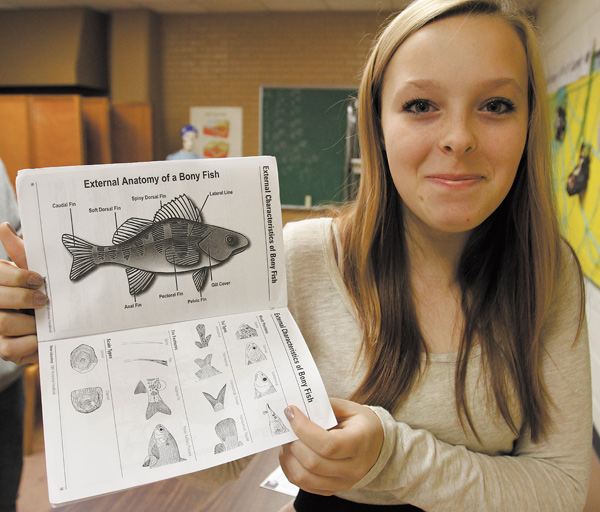 Photo
Maddi Graham, an eighth-grader at Akiva Academy in Youngstown, shows a project book she and her classmates used during a visit last month to the Stone Laboratory, The Ohio State University's island campus on Lake Erie.
By DENISE DICK
denise_dick@vindy.com
YOUNGSTOWN
They caught fish from Lake Erie using a net, measured sun penetration in the water and scooped plankton from the lake bottom.
Ten seventh- and eighth-graders from Akiva Academy spent a couple of days last month at Stone Laboratory, Ohio State University's Island Campus on Lake Erie. It was the first time Akiva students visited the island although Principal Kathleen Mioni said it won't be the last. The school plans another trip next fall.
"We're looking to build our science program," Mioni said.
School officials have been meeting with representatives from Youngstown State University's Science Technology Engineering and Mathematics College to gain input regarding "how to go about strengthening our reputation as a STEM school," she said.
Seventh-graders D'Ella Heschmeyer and Shira Solomon, both 12, talked about fishing.
"We dissected the fish," D'Ella explained.
"We put the heart on our arms, and it would beat with our heartbeat," Shira said.
Dylan King, 12, and also a seventh-grader, said the best part was learning about the structure of Lake Erie.
"Where we were, it was 12 feet," he said.
Eighth-grader Ray Mollica, 13, enjoyed the evening around the bonfire, but if he has to pick an educational aspect as his favorite, it's dissecting the fish.
"We studied herpetology," eighth-grader Eric Allen, 13, said, explaining that it's the study of amphibians and reptiles.
Albert Beltz, Akiva's science teacher, who accompanied them on the overnight trip, said the students also learned about plankton identification and determining wind direction.
Abigail Scharf, 12, a seventh-grader, enjoyed measuring the sun's penetration in the lake. To do that, the students lowered a disk into the water to see how deep it could go and still be visible, she said.
The answer was 5 feet, Abigail said.
Eighth-grader Maddi Graham, 14, said the students also measured the height of the waves rolling onto the shore.
"They were 0 to 1 foot," Maddi said.
The students estimated the height by watching the waves.
Eighth-grader Charles Hudack, 13, liked fishing best. Though he's fished before, it's always been in a small pond rather than a large lake.
They gathered plankton from the lake floor and viewed it under a microscope.
There was phyto-plankton, which is more plant-like, and zooplankton, which is more animal-like, explained Abigail and seventh-grader Sophie Alper, 12.
Seventh-grader Alexander Smith, 12, enjoyed walking on the lake shore and learning about the fish.
Mioni said next year's trip to the lab likely will be for two nights since this year's excursion proved so worthwhile.
"All of our kids are going to college," she said. "It's all about getting our kids ready for higher learning."
More like this from vindy.com