YSU's SEC-ret? Dominating 'D'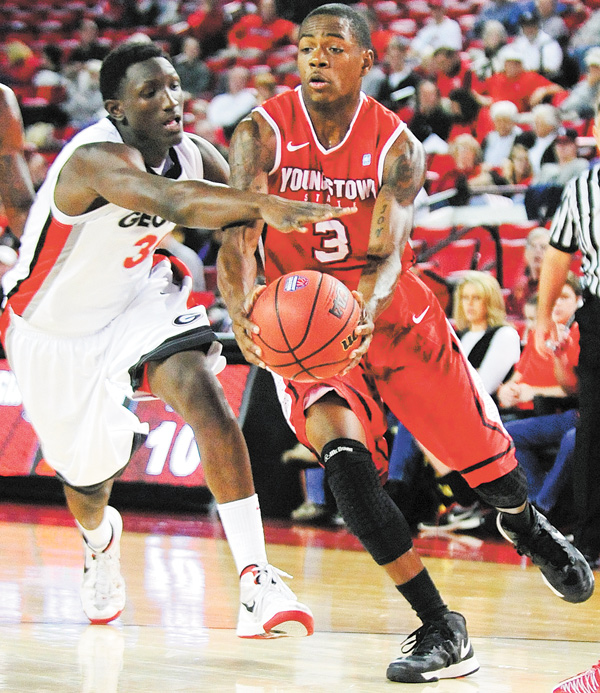 ---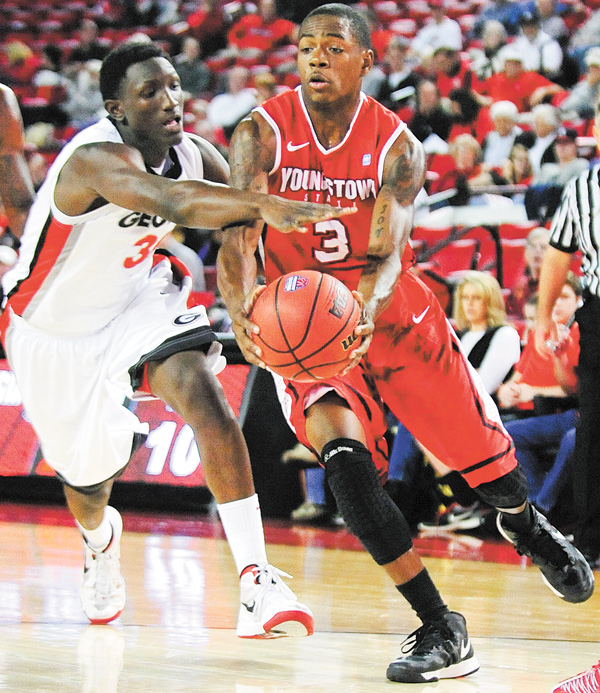 Photo
Youngstown State guard Kendrick Perry (3) drives to the basket against Georgia's John Florveus (32) during Monday's NCAA basketball game in Athens, Ga. The Penguins downed the Bulldogs, 68-56, behind Perry who posted 23 points and six rebounds.
Associated Press
Athens, GA.
Youngstown State's Kendrick Perry felt much better on Monday.
Perry, who led the Horizon League in scoring last year, scored 23 points to lead the Penguins to a 68-56 victory over Georgia in the first round of the Legends Classic.
Kamren Belin added 17 points for Youngstown State (2-0), which shot 81.8 percent from the line (18 of 22) and outrebounded the Bulldogs 42-31. It was the Penguins' first victory over a Southeastern Conference team in four tries.
Perry, who averaged 16.8 points last year, was slowed by a stomach virus in the Penguins' season-opening win at George Washington, scoring three points and going 0-for-9 from the field.
He regained his strength over the weekend, adding six rebounds and five assists.
"I had six turnovers, which isn't good, but as a team, I am very proud of the guys," Perry said. "We have been through a lot and this win means a lot to us. Our team had some big plays and played some great defense."
Kentavious Caldwell-Pope hit five 3-pointers and scored a career-high 27 points to lead Georgia (1-1), despite playing most of the second half with three fouls.
The Bulldogs shot 12.5 percent from the field (3 of 24) in the first half.
"That was a frustrating loss," Georgia coach Mark Fox said. "They came in here and beat our tail. We set the game back 10 years the way we played offensively in the first half."
Damian Eargle added 10 points and 10 rebounds for the Penguins, who shot 55.6 percent from the 3-point line (5 of 9) in the second half.
Georgia was scoreless from the field for the final 6:19 of Friday's opening win over Jacksonville and made only one shot in the first 7:55 against Youngstown State.
Youngstown State led by 11 points at halftime and by 18 in the second half.
"Our guys did a great job listening to the scouting report and did a great job on the defensive end," Youngstown State coach Jerry Slocum said. "We were able to stop them from what they wanted to do. We battled. We played a full 40 minutes and our leaders made the plays when they needed to."
Caldwell-Pope sparked Georgia's quick second-half start with three 3-pointers to cut the lead to 32-29, but he picked up his third foul with 14:27 left in the game.
Without Caldwell-Pope, the Bulldogs were scoreless for the next 4:35 as Youngstown State increased its lead to 38-29 on D.J. Cole's 3-pointer with 11:43 left.
Caldwell-Pope hit a jumper to cut the margin to 40-33, but Belin and Perry sparked an 11-0 run.
"We didn't shoot the ball very well and put a lot of pressure on our defense," Caldwell-Pope said. "We got too far behind, and when it came to the moment of truth, we didn't make enough plays to get ourselves out of the hole."