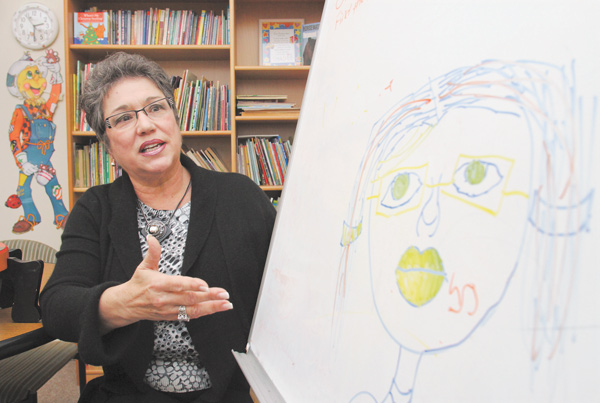 ---

Photo
Carole J. Bopp, executive director of Hope House Visitation Center in Youngstown, shows a drawing made by a child who participates in supervised visitations at the center that serves Mahoning County.
By LINDA M. LINONIS
Youngstown
Hope House Visitation Center Inc. provides a lifeboat for those floundering in a sea of family dysfunction and violence, its top official says.
The welcoming interior features an aquarium and homelike visitation rooms that are child-friendly with books, toys and games. Children's art decorates the rooms.
Why children and families come to Hope House is serious business. They come because of a court order for supervised visitation or exchange of children, said Carole J. Bopp, executive director. She has been with Hope House since February 2000; the first visits started in July of that year.
Supervised visitation means a safe, neutral setting in which contact between a child or children and an adult, usually a parent, is monitored by trained personnel.
Supervised exchange is the "physical transfer of a child between adults, usually parents, in a safe and neutral environment" that is monitored by visitation supervisors. Super- vised visitation and exchange take place because of issues relating to divorce, separation, domestic violence, civil-protection orders, threats, stalking, child abuse, paternity, mental health, substance abuse and safety.
Hope House was the vision of the Junior League of Youngstown, Bopp explained. "They [league members] saw a need for such a service," Bopp said. The league is represented on the 13-member board.
Bopp said the league, along with support from Mahoning County Children Services Board, Domestic Relations Court and Juvenile Court, took the project from a "vision to reality."
The $200,000 construction of the facility began in July 1999 with a ribbon cutting in March 2000.
Hope House is located on West Earle Avenue on the city's South Side. Entry to the building is by buzzer. Mahoning County deputy sheriff Greg Taillon, who is armed, provides security.
A new family goes through a needs assessment, Bopp explained. "Each party, separately, is allowed to 'tell the dirt' on the other." It's one-time- only venting, she said, and helps staff "assess the violence."
It's only after this assessment do supervised visits start. "The court order gives me teeth," Bopp said, noting that families must follow the rules and protocol.
Monitors are part of the operation. Bopp said they observe and give a status report. The monitor fills out a detailed report to assess interaction between child and parent. If a monitor checks "happy," it might be supported with a comment that the child smiled or laughed and the same for the opposite emotion.
The director said Hope House sees about 35 families a week. Children in the program range in age from babies to 19. The average participation for families is nine months; the longest has been six years.
The intervention at Hope House may help break the cycle of family violence or abuse, Bopp said. "It's heartwarming" is how she described improvement and progress in family relationships.
Some may question why children have visitations with one or both parents, who may have been abusive or neglectful. "Children want to have the contact," Bopp said. "It's still their mom or dad. They want a relationship."
Bopp said Hope House is the haven that provides the safe territory. Monitors sit in the rooms during the visits or watch through a two-way mirror. "The priority is safety," she said.
The court dictates who is on the visitor list and Hope House strictly complies. "We've had some volatile situations. But we haven't had any incidents in my 12 years."
Next year, Bopp said she plans to start an individualized therapeutic parenting program and and education and child-support program.